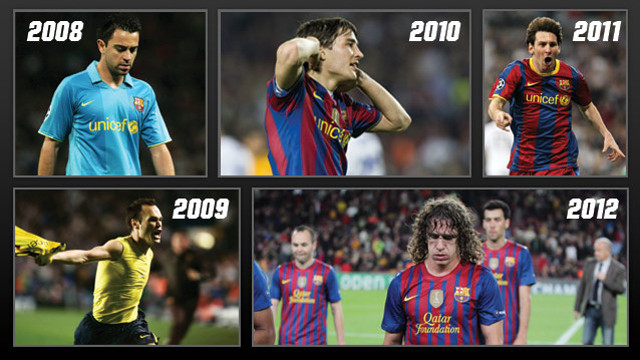 The semi finals meetings with Chelsea in 2009 and Real Madrid in 2011 are two of Barça's greatest moments in recent years
The cruel eliminations in 2010 and 2012, as well as defeat in 2008, have prevented FC Barcelona from appearing in more Champions League finals
Three disappointments and two triumphs have marked Barça's recent history in Champions League semi finals

There have been moments of joy and despair in Barcelona's most recent UCL semi final appearances, with the latest in the series, against Bayern Munich, just around the corner. FC Barcelona are into the last four for the sixth year in a row, and here we remember what happened the last five times they made it so far.
2007/08. Manchester United (0-0 and 1-0)
In Frank Rijkaard's last season on the Barça bench, the team made the first of what have so far been six semi finals in a row. The first leg ended 0-0, with Cristiano Ronaldo missing an early penalty, but a solitary strike from Paul Scholes at Old Trafford was enough to see the Premiership side through to the final in the second leg.
2008/09. Chelsea (0-0 and 1-1)
As in 2008, FC Barcelona, now under Guardiola, had to go to England after a 0-0 at the Camp Nou. Once again, an early goal meant Barça were playing catch-up, but this time there was a happy ending, with Iniesta scoring a dramatic goal in the dying seconds to send Barça to Rome and provide one of the most memorable moments of the last decade.
2009/10. Inter Milan (3-1 and 1-0)
In their third consecutive semi final, Barça paid the price for a poor result in the away leg. They travelled to Milan by coach due to the recent volcano scare affecting flights in Europe, and the tiredness may have been a factor behind the 3-1 defeat. At the Camp Nou, Piqué narrowed the deficit, but some stolid Inter defending meant Barça missed out on the second goal they so desperately needed.
2010/11. Real Madrid (0-2 and 1-1)
The 2011 semi finals paired Barça with their oldest and most traditional rival. A 2-0 win at the Santiago Bernabéu was the perfect start, and with FCB scoring through Pedro, the 1-1 draw in the return was enough to seal passage. That day also marked the return of Eric Abidal, the man who would end up lifting the trophy when Barça won their fourth Champions League at Wembley.
2011/12. Chelsea (1-0 and 2-2)
As in 2009, Barça got a poor result in the first leg and failed to make amends in the return at the Camp Nou. And that was despite the perfect start in Barcelona, with goals from Busquets and Iniesta to put the home side back in command. But Chelsea pulled one back before half time, and then a Torres goal in injury time definitively put an end to all of Barça's hopes of qualifying.