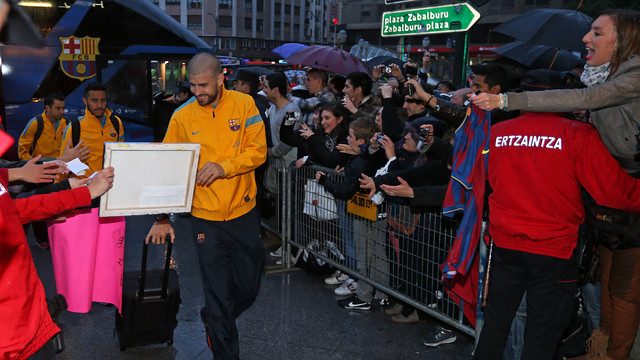 The first team travel to Bilbao
El Barça ha viatjat aquesta tarda a Bilbao després de l'entrenament i un dia abans de jugar a San Mamés (a partir de les 18 hores). El tècnic Tito Vilanova s'ha endut 20 futbolistes per a aquest últim partit del conjunt blaugrana al mític estadi de l'Athletic Club, ja que l'any vinent els bilbaïns estrenaran casa. L'equip ha aterrat a l'aeroport a les 20.15 hores i s'ha traslladat fins a l'hotel de concentración on descansarà fins a l'hora del partit.
Amb l'equip també han viatjat els directius Toni Freixa, Jordi Moix, Pilar Guinovart i Silvio Elías, així com el director esportiu de Futbol Professional, Andoni Zubizarreta.