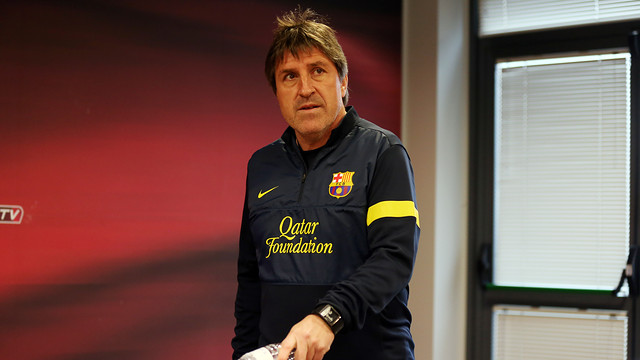 Roura has guaranteed that the team is fully focused on Saturday's game with Mallorca and that despite the missing players, they will do all they can to get a good result.
"We will wait for Saturday's training session to decide what eleven we'll play. We'll think hard about the options" said the FC Barcelona manager
Should he go into Saturday's game with Mallorca with a first choice eleven? Or should he play some of the less regular players? These were the questions asked to Roura at his midday press conference on Friday. "We have to try to keep the balance. Our heads are fully focused on Saturday's game. We have always said that the league is a very important target for us", said Jordi Roura. Despite the missing players through injury, the FC Barcelona manager is convinced that "this team has always been able to respond to difficult situations like this. We have missing players but I don't doubt the members of my squad. If they're in the squad it's because they're good enough to be there. On Saturday we'll play with intensity and do everything we can to take the match".
Roura added that Mallorca "is a difficult opponent. These games with teams in danger of relegation are always difficult." He remembered the game with Celta, before adding that "all points are essential and we'll be going for this 100%. I have a lot of respect for games like these."
Discussing options
Tito Vilanova and Jordi Roura will wait until Saturday after training before they decide what team they'll field against Mallorca. It is in defence that they have the most injuries to worry about, but Roura has said that Adriano is responding well to treatment and should be fit within schedule. Song and Sergio are useful for getting the ball out from the back, and Puyol "is working morning, afternoon and evening to get fit but we have to take the medical programmes into account".
He was also asked if there is any chance that we'll see Abidal back in action? "He is one of the squad, and so he also has options" said Roura. "His is a very special case. He has developed well. He'll play if we think he can help."
Messi and PSG
Messi's name naturally came up several times. The Argentinian won't be playing on Saturday, but "we'll have to see how he develops between now and Wednesday. He is a competitive player and always wants to be in the team. At the end of the day, it depends how he feels and what the doctors say. But neither should we force things."
UEFA institutional letter
The Barça assistant coach finished with a comment on the letter written to FIFA about incidents in the game with PSG on Tuesday, saying that "Freixa explained the club's position in this respect. We fully agree with this letter to UEFA because we feel that a written law was not complied with … We are fully respectful to referees, but there are certain things that have to be said. These are very specific things regarding very specific matches" he concluded.