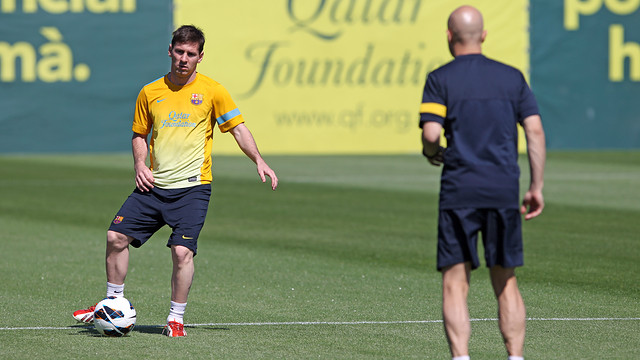 Sergio Busquets also joined in with part of the group training session
Ten players passed the UEFA doping test

The big news at today's training session was the presence of Leo Messi. The Argentinian, who injured his right hamstring at the Parc des Princes, started doing fitness work on one of the Ciutat Esportiva fields. It was also good news to see Sergio Busquets getting involved with part of the group session. The midfielder had worked out separately with Pinto on Wednesday, while on Thursday the goalkeeper exercised on his own.
UEFA doping test
The session, which was also joined by Oier and Sergi Roberto of Barça B, involved a UEFA doping test, which ten first team players had to take. These were Iniesta, Tello, Alves, Piqué, Villa, Song, Alba, Valdés, Xavi and Messi, and all of them passed.
Before the session started, the players and coaches also paid tribute on the field to the team driver, Salva Bertomeu, who will be retiring in a few days time.