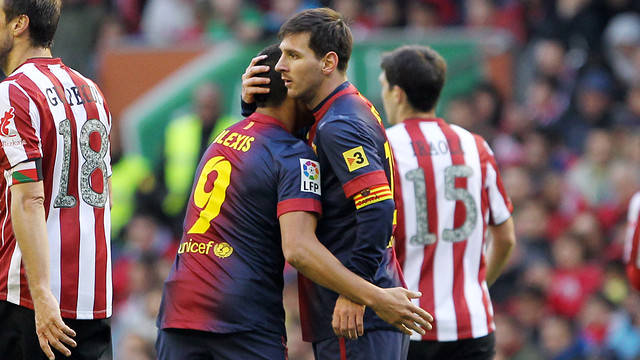 The Argentine international marked his league comeback after injury with his 44th goal in the competition.
His strike levelled the score line at 1-1 and established a new record of away goals.
Leo Messi was the outstanding player of the match in San Mamés (2-2). When he came on in the 58th minute, he turned the game around for Barça. In just eight minutes he created a clear goal scoring opportunity for Pedro and hit a beautiful equaliser from just inside the area. This was his 24th away goal of the season – a new record in the competition, beating Cristiano Ronaldo's previous best of 23 last season.
A guarantee of goals
He also established a new record for scoring in consecutive away games. He has now found the net in 15 away matches on the bounce, beating the record of 14 held by Dani Güiza since the 2007/08 season. So far this season, he has only failed to score in two away matches – against Sevilla (2-3) and Zaragoza (0-3), where he missed the game due to injury. And he still has two more chances to extend the run in the Vicente Calderón against Atlético and in Cornellà-El Prat against locals rivals Espanyol.
Six more to reach 50
Messi's goal brings Barça's total so far in the league to 100 and is his second in San Mamés. It brings him another step closer to last season's tally of 50 league goals. With only five more matches left he needs another six goals to equal that astonishing figure. But for Messi, nothing is impossible.