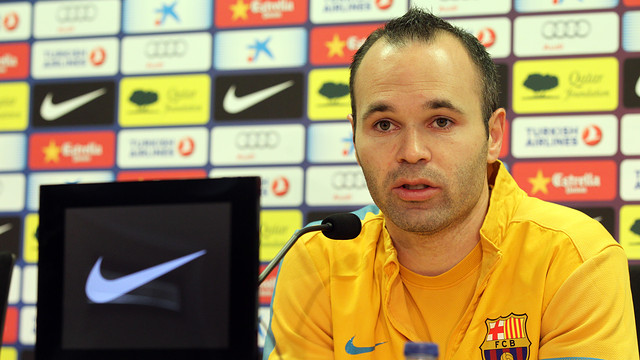 The Barça midfielder reflected on the defeat to Bayern this lunchtime and explained what the team need to do in the return leg, as well as insisting on the importance of the league title.
After Tuesday's painful defeat at the Allianz Arena, Andrés Iniesta was calm, but honest when he spoke to the media this lunchtime: "they were better than us in every aspect. It's not that we weren't up for the game, it's just that they are in top form and they were better – we cannot deny that. Bayern and Borussia are both on top of their game, both technically and physically and that has been made clear this week. Right now, in these games, they have both got the better of the teams they've faced – that's the way it is".
Iniesta also believes : "people are being too unfair to the team", following the defeat, "- in the last five seasons we have won three Champions Leagues, reached three more semi-finals , we are on the point of taking our fourth league title, Super Cups…….. what a record! We have spent many years fighting for everything. For me, you can talk about the end of an era when we have gone a while without winning anything. I think this team has done enough to deserve respect".
Return game
It's undoubtedly a tall order that faces the team next Tuesday in the return leg, but Iniesta believes: "we have to go out to win the game – if we can get a chance to do what seems 'almost impossible' then we try and go for it. I'm not saying we will get five, but I am saying that we have to go out and play it as if it were a final. Sometimes when everything seems to be lost, things you didn't expect happen , we have to fight till the end and if we lose, well we can at least say we did everything we could".
Focus switches back to domestic competition
Before that return match though, there is a trip to Bilbao for Saturday's league game, where a win could hand Barça the title and Iniesta made it clear: "the only thing to do is to pick ourselves up and get back to winning the league. Now we have to switch our focus, go to Bilbao, win and ensure that the league title is one game closer. Athletic will demand that we are at our best. We have the experience of playing them over the last few seasons and we know that it will be an intense and physical game" .
Finally, Iniesta insisted: "this has been one of the toughest leagues of recent years and to come back and win it after we lost it last season is very important. It can't be called a bad season when you win the league, the Champions League might be more prestigious, but the league is the most important. It would be a mistake to say this had been a poor season, just because we didn't win the Champions League".