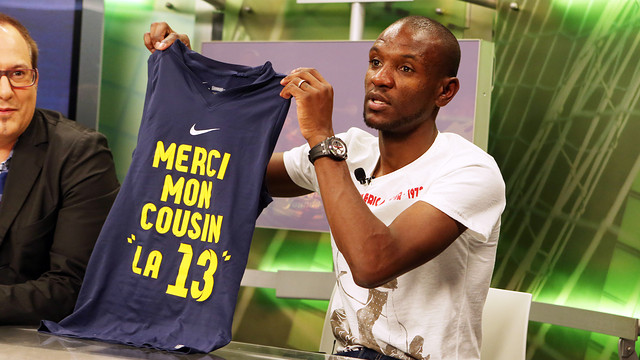 After his reappearance against Mallorca, Abidal thanked his family and "all those people who have helped, without whom I couldn't have made it through"
Speaking on the Barça TV programme 'El Marcador', Abidal explained: "football is my life and I didn't want to finish without playing again. I didn't want to leave like that and I fought to come back"
Homage from Alexis
Alexis paid homage to Abidal after he'd scored his second goal, racing to the bench to give him a hug and the Frenchman explained: "I knew this would be the day for Alexis and Cesc – they deserve it after all the effort they've made".
Éric Abidal grabbed the spotlight on Saturday night with his return to football after more than a year fighting his illness and the Liver transplant he received. Abidal insisted in thanking all the people who had helped him come through, explaining: "without my family and all the others who helped me, I would never have achieved what I did". His cousin donated his liver to Abidal and he paid special thanks to him: "he's the most important person. He's never been in a hospital and he did it for me. I'm here in front of the cameras, but he's the most important figure".
Fighting spirit
"When they told me I had had a relapse, I had the same mentality that I did the first time, that's to say just keep going and take this thing on, get cured and come back. Football is my life and I didn't want to finish without playing again. I didn't want to leave like that and I fought to come back, Abidal told the programme, claiming: "the objective was that I could finish my career playing and if I feel okay and can continue for a year or two more, then I will".
Abidal also accepted that he could be seen as an example to follow for people in a similar situation to him and he advised them: "don't like it get you down".
"This is my day"
Abidal had really missed his teammates: "there more than a family and I wanted to be back with them to help out" and when Tito asked him if he was ready to play, he told him he was: "this is my day. He asked me because he'd not had the chance to see me training and didn't know how I was doing. I just told him that I was okay to play for a few minutes".
Abidal also recalled the message he got this summer from Tito Vilanova at the team's presentation, when he told him: "if you are strong and want to get back, we'll wait for you as long as we have to. Your fight is our strength" and admitted: "they were a real help to me because he made it clear that I should take my time" There was also thanks for trainer Juanjo Brau, who had told him: "come on, you need to get it together" We need you to come back and help the team".