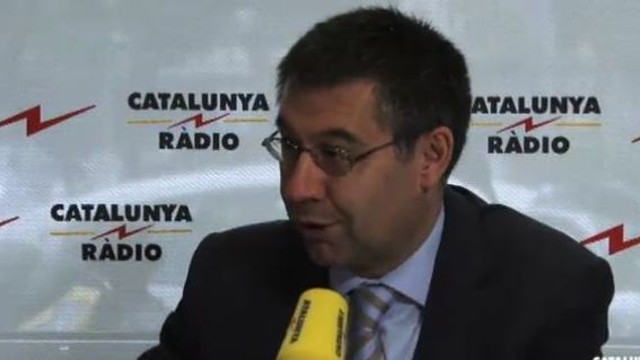 The vice president for sport has reminded fans that the main objective for this season was always the league title
On the return leg with Bayern, he says that "we can't give anything up as lost, we have to fight for it"
On next season: "We have a very sound base, but we'll need to make changes and modifications"
The team needs just six points to make sure of the league title, although they could actually clinch it on Saturday if the results go their way. "Since the start of the season, we have said that the league is our main objective. That's because we didn't win it last season" said vice president for sport Josep Maria Bartomeu in an interview on Thursday with Catalunya Ràdio. "Winning that competition always has to be the target for a team like Barça."
He added that "it has been a difficult championship. To get this far and be 13 points ahead of Madrid is something to celebrate, because that's not easy at all. This league means a lot. Winning four out of five is something to admire".
Big day on Wednesday
Neither does he think that any towels need throwing into any rings quite yet regarding the game with Bayern. "We have to go to the ground to support our team because there could always be a surprise." He insisted. "We can't give anything up and we now have to fight, because this team has already shown how much character it has. Why can't we turn the tie around? The players have to believe in themselves. They're not as bad as some people are saying. They're extraordinary players".
Confident in Tito
He also had words about the first team coach: "Tito Vilanova will be managing Barça next year. He and the team have done a very good job. It was not easy to manage a team in a year of transition … And it's been a very difficult year for Vilanova, as a manager and as a person".
Summer changes
On possible new signings this summer, Bartomeu said that "there is a very solid base, but we'll need to make changes and modifications." But nothing drastic is required, and there's no way that "we'll be seeing Barça next year without Messi, Xavi, Iniesta, Piqué or Busquets … There are Barça B players knocking on the door and they'll get their chances … But there are positions that need reinforcing." However, at this stage, he was reluctant to go into any more details.