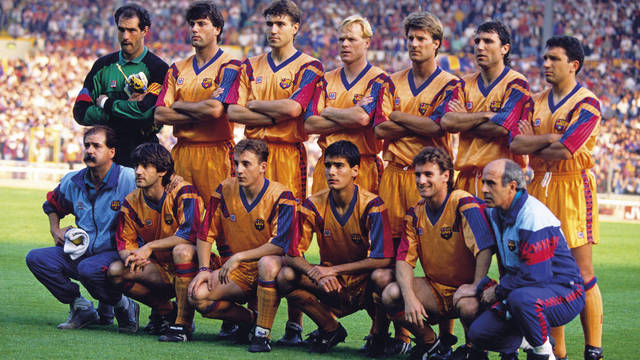 UEFA takes a look at FC Barcelona's first final in Wembley and Leo Messi takes on a very unusual goalkeeper
UEFA.com has been focusing on Champions League finals hosted at the legendary Wembley stadium in the run-up to this year's final in London. This past week, the series took a detailed look at the 1992 final between FC Barcelona and Sampdoria.
Johan Cruyff, manager of the team that is now known as the Dream Team, recalled his vast experience as a player and then a manager prepared him well in the run-up to colossal showdown with the Italian side:
"It was the experience I had as a player and then as a coach; you knew what went wrong the first time, you knew why you lost, but you knew what went well the three times you win. This experience is something not a lot of people have, so as soon as you have it you can build it through, you can build it up in the way you want to do it especially as a coach."
UEFA.com also interviewed ex-FC Barcelona player Gary Lineker, who scored 42 goals in the Barça strip between 1986 and 1989. Lineker noted: "I was at that game, I went along to watch. I had just finished at Barcelona a few years prior so I was desperately keen that they went on and won it [sic]. They thoroughly deserved to do so. I remember it was Koeman who knocked it away for the winner …. It was very emotional occasion and a terrific atmosphere as there always was at Wembley and still is."
Watch the segment in its entirety here.
• Messi faces off against a robot
When a well oiled machine duels a robot on the football pitch the outcome is never certain, but it's always entertaining. And entertaining it was when Leo Messi stepped up to the penalty spot and faced a keeper the likes he'd never encountered before. The Argentine, who agreed to the duel proposed by a Japanese TV game show, tested his mettle against a keeper not made of human flesh and bones, but a mechanical robot made of wires and steel. To see the shootout, see the video below: