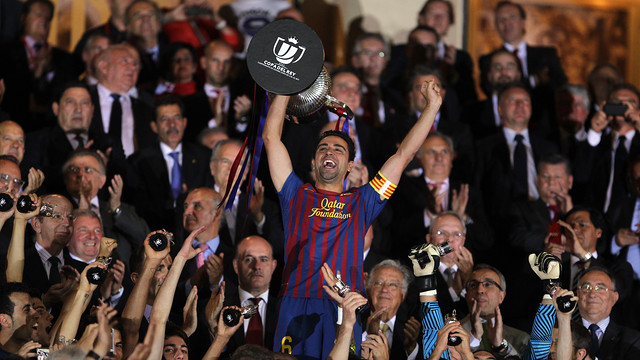 Xavi Hernández has won more trophies with FC Barcelona (20) than any other player in the history of the Club and is on the verge of equalling Paco Gento's all-time Spanish record.
The three titles won by the international midfielder with Spain, added to the twenty accumulated with Barça, mean that Xavi is just one short of matching Real Madrid legend Paco Gento's longstanding national record of 24 trophies.
Xavi's honours
With Barça:
– Two World Club Championships
– Three Champions Leagues
– Six Leagues
– Two Spanish Cups
– Two European Super Cups
– Five Spanish Super Cups
With Spain:
– One World Cup
– Two EURO Cups
Individual awards:
– 3rd place FIFA Golden Ball 2009, 2010 and 2011
– Best player EURO 2008
– Best playmaker IFFHS (2008 and 2010)
– Prince of Asturias Award for Sport together with Iker Casillas
On 26th August 2011 he overtook Guillermo Amor to top the ranking of title winners with FC Barcelona. Fifteen years after making his debut he's accumulated an incredible 20 club honours and is on the brink of equalling the Spanish record held by Real Madrid legend Paco Gento, who won 23 club titles plus one with Spain, the 1964 European Nations Cup. Apart from the 20 trophies Xavi has picked up with Barça, with Spain he's won the World Cup (2010) and the EURO Cup twice (2008 and 2012) and is now just one trophy behind Gento's record.
Xavi first big success with Barça was the 1998/99 league title, to which he contributed with 17 appearances. Since then he's been a vital cog in a footballing machine that just keeps on winning titles and universal praise.
One trophy away from making history
It takes a special kind of player to become the most successful collector of silverware in the Spanish game. The current record holder, Paco Gento, won a total of 23 trophies with Real Madrid between 1953 and 1971, including a dozen league titles and six European Cups, plus the 1964 European Nations Cup with Spain.
Xavi Hernández is now just one trophy short of a record that seemed unreachable 42 years after Gento retired in 1971. The Catalan midfielder is the leading light of a magnificent generation of players, many of them brought on through the Barça academy, who are still hungry for more honours. Such is the brilliance of his list of honours that the Olympic silver medal won in Sydney (2000) and the World under-20's Championship (1999) seem quite ordinary. Nothing could be further from the truth.