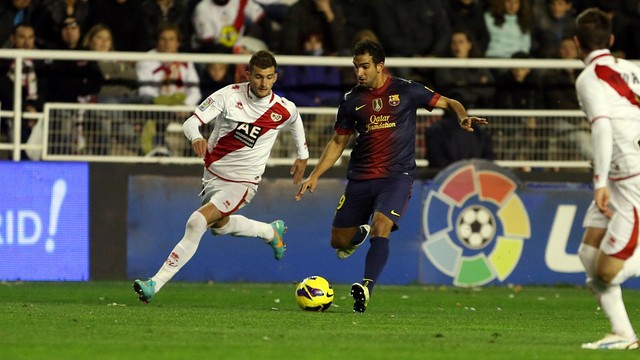 Paco Jémez and his men know that getting a good result at the Camp Nou is no easy task, but the Madrid-based team are currently just points away from breaking into the top 6 positions of the table. With only 11 matches left in La Liga, tomorrow's three points might prove vital for Rayo's hopes of playing in the Europa League next season
PREVIOUS MATCH
Rayo Vallecano hosted FC Barcelona on Week 8 of La Liga at Vallecas this past October. The Blaugrana, who were level on points with Atlético Madrid, needed to secure the three points to remain at the top of the table. In an attempt to stifle Barça's passing game, Paco Jémez ordered his back line to play a high press, just behind the midfield. The tactic didn't pan out for the Madrid-based team as Villa and Messi both scored before the break. In the second half, goals from Xavi, Cesc, and another from Messi sealed the win for Barça (0-5).
FORM GUIDE
Rayo are 8th on 41 points from 27 matches. Of their last five matches they've lost two, won two and tied one. Rayo defeated Atlético Madrid (2-1) and Espanyol (2-0), lost to Real Madrid (2-0) and Valladolid (1-2), and secured one point against Deportivo (0-0).
Jémez's men are just shy of breaking into the upper zone of the table that gives access to European play next season. Sitting one point behind Valencia (7th) and two behind Betis (6th), Rayo will undoubtedly be looking to come away with the points from tomorrow's match. "Playing against Barça at the Camp Nou is always difficult," said Rayo midfielder Roberto Trashorras. "We're going to play against one of the best teams in the world, but our intention is to win and to play without fear. We know what we're going up against and it will be difficult, but our intention is to do what we always do, try to win."
ONES TO WATCH
Unfortunately, Leo Baptistao, Rayo's joint top scorer with 7 goals from 24 appearances, will miss the match on Sunday due to injury. However, Jémez will be able to call on his other top scorer, Francisco 'Piti' Medina, who also has 7 goals this season.
The Camp Nou could also see up to four ex-Barça youth players feature against FC Barcelona on Sunday. Rubén Martínez, José Manuel Casado, Sergio Rodríguez, and the aforementioned Roberto Trashorras all learned their trade at La Masia. Martínez and Rodríguez joined Rayo in the summer of 2012, while Trashorras and Casado were signed in 2011 and 2010, respectively.