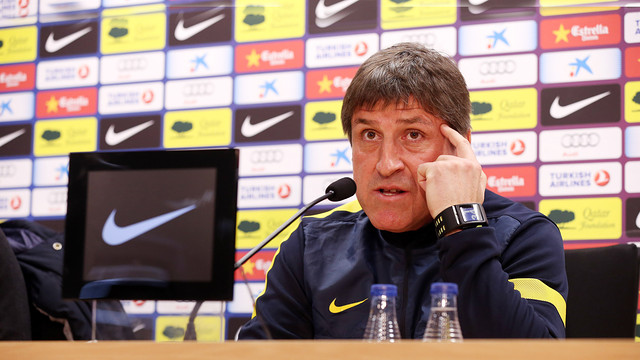 Following the magical comeback against Milan and day before the league clash with Rayo, the Barça coach said on Saturday: "After such a big boost we have to guard against a drop in our intensity. We have to be very careful"
Good and bad moments
With the international break coming up and the return of Tito Vilanova on the horizon, the match against Rayo could be Jordi Roura's last as temporary first team manager. "That would be really great, because of Tito coming back. But I've taken it all calmly. I haven't been anxious although I have demanded maximum alertness and effort. There have been some bad moments and some really happy ones. I'm very happy with and proud of the people who have helped me".
Cautious and focussed on Rayo. Jordi Roura is determined to get the squad 100% ready for the match against Rayo, coming as it does so soon after the recital against Milan. "It's very important and especially complicated. We've just had a very intense game which was a huge psychological and physical effort. After such a big boost we have guard against a drop in our intensity. We have to be very careful". With the objective in mind of winning the league title, he believes it is vital "to win all our home games".
At the same time, Roura is confident that the players will do their job: "If there's anyone who has always had faith in the team it was me. I've always said that they react very well to adversity. I've never had any doubts. The players know what they have to do and they'll keep on doing it". As proof, he pointed to the training session of the substitutes the day after the Milan game and insisted: "The commitment of the squad is unquestionable".
Without the captain
Speaking at Saturday's press conference, Jordi Roura admitted that the absence of three key players – Puyol, Xavi and Valdés – was a blow: "Players of this quality are always missed but the ones who take their places will be fully focussed and effective. We can't allow ourselves to relax". In reference to Carles Puyol he said: "When you lose the captain that's not good news. We all know what he represents and that he's an example. He's been in pain for some time but he carried on until something had to be done".
PSG a demanding opponent
Roura also spoke about Barça's CL quarterfinal opponent, Paris Saint Germain. And he sounded a warning note: "I don't agree that it was one of the easier teams we could get. They've strengthened the squad a lot, they've got some great players and it'll be a very complicated tie. I know people say we are favourites but they also said that about Milan. At this stage all the ties are really tough".