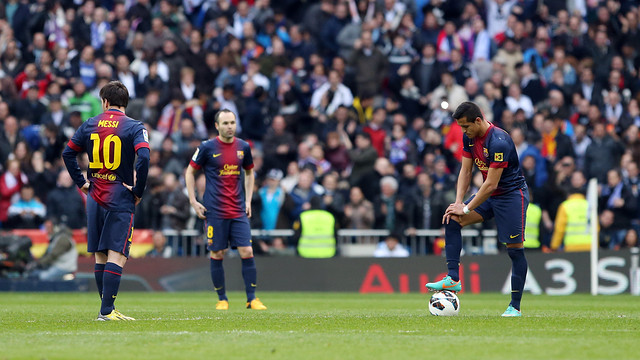 The defeat on Saturday at the Bernabeu was only the second of the season for FC Barcelona in La Liga. Here we look back at some of the stats of El Clásico
Messi, surrounded by Real Madrid players / FOTO: MIGUEL RUIZ – FCB- Leo Messi has now scored 18 goals against Real Madrid to equal Di Stefano's record in matches between the two clubs.
– Messi also broke Roberto Carlos's record for the most appearances in Clásicos with 25.
– Messi has now scored in an incredible 16 consecutive league matches. He's already scored 50 goals this season, 39 of them in the league. He's the first player in the history of Spanish football to score 50 or more goals in three different seasons.
– Víctor Valdés, Dani Alves, Gerard Piqué and Messi himself are the only players to have featured in the starting line-up in the last five league Clásicos in the Bernabeu.
– Last Saturday's defeat ended a run of four seasons without losing in the Bernabeu in the league. Since losing 4-1 on 7th May 2008, Barça had chalked up three wins and a draw.
– Barça has scored in 11 consecutive matches in the Bernabeu. Only Athletic Club has a better record, scoring in 12 consecutive matches between 1947 and 1956.
– Dani Alves made his fourth goal assist in the last seven league games.
– Real Madrid recovered possession 50 times and lost possession 72 times. Barça recovered the ball 56 times and lost it 74 times.
– Real Madrid made 305 passes, completing 225. Barça made 756, 668 of them completed.
– Iniesta (109), Thiago (107) and Sergio (102) were the best passers in El Clásico. Essien was the best for Real Madrid, with 37 passes completed.
– Finally, Real Madrid had 14 shots, of which six were on target and one hit the post. Barça produced five shots, two of them on target.