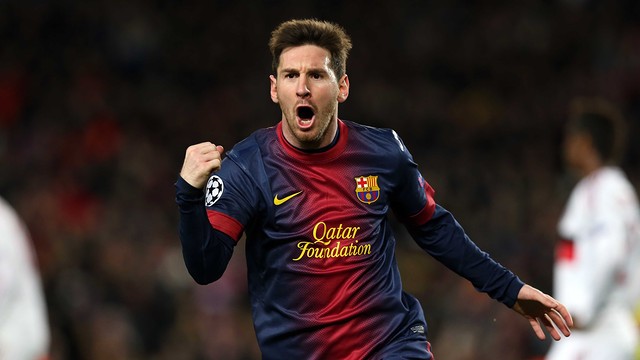 His brace against AC Milan takes his overall tally in the round to fifteen goals
The Argentinian has scored two or more goals in 18 of his 42 games this season
Only Ronaldo and Yilmaz, with eight goals each, have scored more than him in the current edition of the UCL
The Champions league anthem played at the Camp Nou last night, but Leo Messi managed to blank out the bad memories of the previous two games in the competition – in which he went off injured against Benfica and saw his side crash to 2-0 defeat at the San Siro. Instead, he must have been thinking about some of his amazing performances in this competition in the past, where he has been especially devastating in the first knockout phase.
15 goals in 16 games
The Argentinian has scored 15 goals in the 16 matches he has played in this round, and since the 2007/08 season, when he got two at Celtic Park, Messi has always scored at least once in this round of the competition
Lyon were his second victims in 2008/09, in which he scored in the 5-2 win in the second leg. Then in 2009/10 it was Stuttgart (two goals in the 4-0 win in the second leg); followed in 2010/11 by Arsenal (two goals in the 3-1 win in the second leg) and in 2011/12 by Leverkusen (one goal in the 3-1 win in Germany and then an amazing five in the 7-1 battering of the Bundesliga side in Barcelona). On Tuesday, he added another two against AC Milan, taking his overall record to 15, almost double that of the second highest ranked player, Cristiano Ronaldo with eight.
Chasing fifth top scorer award
This edition, Messi has scored seven goals, and is second in the overall standings behind Ronaldo and Yilmaz, who have eight each. The Argentinian was the top goal-getter in the last four Champions Leagues, scoring 9, 8, 12 and 14 goals respectively.
King of braces
Messi just cannot stop breaking goalscoring records. He is also top of the list of players to have scored two goals or mote in Champions League matches. He has done so 16 times, more than Raúl with 14 or Cristiano Ronaldo and Inzaghi with 12.
Messi has scored at least twice in an incredible 18 of the 42 games he has played in all competitions this season, and has 53 goals this season, the same number he managed in the whole 2010/11 season.