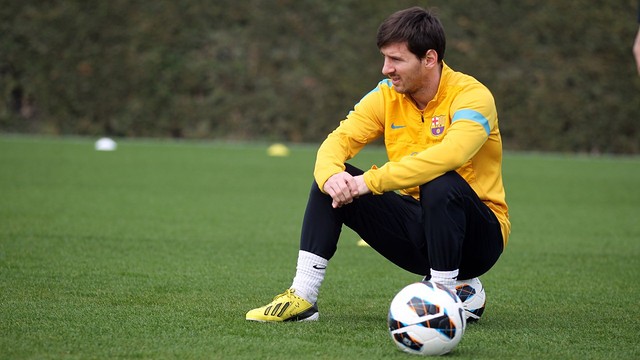 The Barça striker has explained that the first team are confident that they can still beat AC Milan, but that to do that, they'll "need to give a little bit extra"
Leo Messi spoke at lunchtime today about Barça's current situation, and his words were essentially the same as those of his compatriot Javier Mascherano the day before. "We obviously need to give a little bit more. We have been losing recently but we know what we have to do to change things. This game is ideal for reacting and making that change", he said at the presentation of a line of clothing and boots that carry his name.
He was of course referring to the crunch Champions League fixture against AC Milan, in which Barça will need to bounce back from 2-0 defeat in Lombardy. "We all want to turn the tie around" he said. "And we know that will be difficult, but we're confident. If they could do it there, then we know we can do it here … We know that if they get a goal it'll be more difficult and Milan have some very good players. But we have our options".
Time for a lift
After losing three of their last four games, Messi admits that "losing hurts. We'll try to get over this situation. There's a very important match on the way." And he is convinced the team have the solution, although he's not revealing anything in public. "We know what the problems were in the games we lost. We talk about these things in the dressing room, and that's where they'll stay".
He also commented on the recent events concerning Tito Vilanova and Éric Abidal, saying that "it affected us a lot and I think it has had its toll on the way we've performed in competitions. But we're a tough squad and we can't go using that as an excuse". On his French colleague he added that "everything he has done, the way he has fought to get back, it's so admirable. … The fact he's here with us is incredible."
No limits
At an event attended by many members of the international media, Leo Messi also revealed the secret to his personal success, namely that "every time a new year starts, my target is to win everything. That's my motivation. To win it all again". But he set that insatiable hunger for victory is helped by the fact that "I belong to a squad in which everyone wants the same thing."