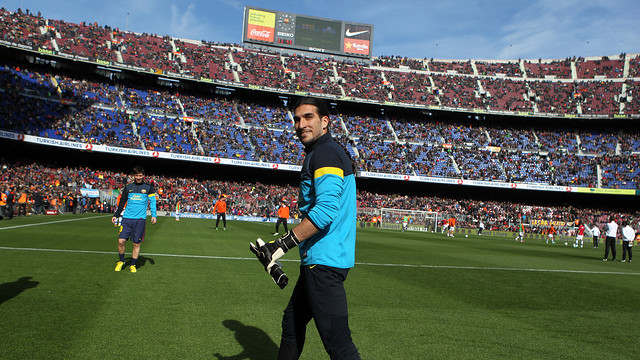 Victor Valdés' red card against Madrid opens the door for Pinto to make his 2012/13 league debut against Deportivo on Saturday
In his five years at the Club, Pinto has played 14 league games, with nine wins, one draw and four defeats
Pinto's league record
07/08. Deportivo-FCB (2-0)
07/08. FCB-Mallorca (2-3)
07/08. Murcia-FCB (3-5)
08/09. FCB-Osasuna (0-1)
08/09. Deportivo-FCB (1-1)
10/11. FCB-Bilbao (2-1)
10/11. Mallorca-FCB (0-3)
10/11. Valencia-FCB (0-1)
10/11. FCB-Almeria (3-1)
10/11. R. Sociedad-FCB (2-1)
10/11. Malaga-FCB (1-3)
11/12. Rayo-FCB (0-7)
11/12. FCB-Malaga (4-1)
11/12. FCB-Espanyol (4-0)
Victor Valdes' red card at the Bernabeu on Saturday gives José Manuel Pinto, traditionally Barça's keeper in the Cup, the chance to shone in the league, a competition he has played 14 games in over the last five years, with nine wins, one draw and four defeats, conceding a total of 16 goals.
Third time against Deportivo
Pintos chance should come at the Camp Nou this Saturday against Deportivo – curiously the team he has figured against most times during his period at the Club, having faced them in the 2007/08 and 2008/09 seasons, when the league was already won – first by Madrid and then by Barça. Both games were played at Riazor, the first ending in a 2-0 defeat and the last in a 1-1 draw. The La Coruña outfit also have a special resonance for Pinto, who played for their great rivals Celta for eight years.
Safe pair of hands in big games
Many of the 14 games that Pinto has played for Barça were pretty much dead rubbers when the league title had already been decided, but on the few occasions he's been called pon to play in a decisive game, Pinto hasn't let the squad down.
The clearest example of that came in the 2010/11 season, when a knee injury ruled Valdes out for three games and Pinto filled in for the wins against Bilbao (2-1), Mallorca (0-3) and Valencia (0-1) when he conceded just a single goal.
Nine games so far this season
The Deportivo game will be Pinto's debut in the league this season, but his tenth game in all, taking into account the Cup and Champions League. In the Spanish Cup, Pinto played as the team beat Alaves, Cordoba and Malaga before losing to Madrid. In Europe, he played against Benfica – when he kept a clean sheet.