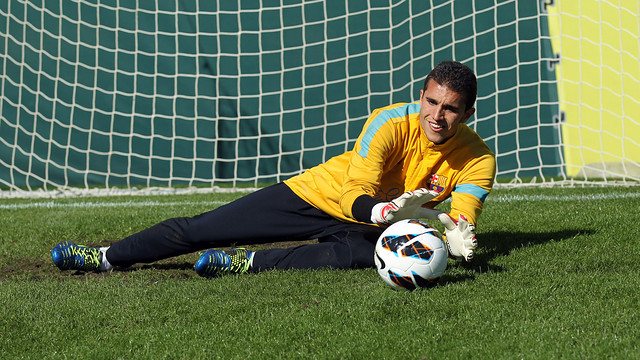 The B team keeper trained with the first team and will be part of the squad for the Deportivo game, with Victor Valdés suspended
Víctor Valdés' suspension has opened the doors for José Manuel Pinto to play in the next few league games and of course, for one of the B team keepers to step up into the first team squad. With Oier suspended, the choice comes down to Jordi Masip or Miguel Bañuz and it was the former who joined in the first team training at the Ciutat Deportivo this morning and will be called into tomorrow's match day squad against Deportivo de la Coruña, when he will wear the number 32 shirt.
Long time at the Club
The 24-year-old Masip has spent a long time at the Club, having joined as a Cadet A player from Mercantil de Sabadell, before playing for the Youth teams and finally, five seasons ago, joining the B team and playing under Luis Enrique and Eusebio Sacristán to become one of the B team's longest serving players.
Quick and agile
Jordi Masip is a quick and agile keeper, who at 1.80 is also a tall man and his quick reflexes and speed of reaction make him an expert shot stopper. The Catalan's main virtue though, is his ability to read the game, dominant in the air and with his height and strength, he is an expert at cutting out crosses. Masip also possesses a fundamental ability for a Barça keeper – he is great with the ball at his feet, brave, skilful and accurate and always looking to start an attack for the team.