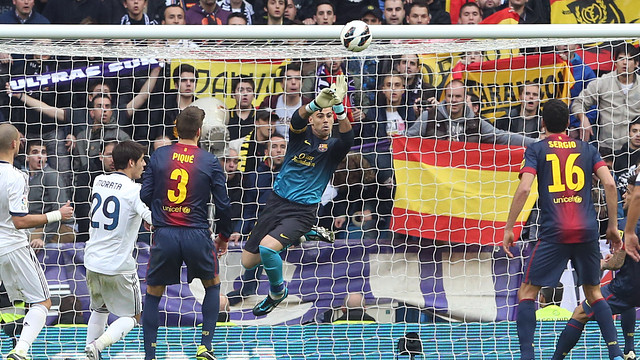 The FCB goalkeeper will miss the next four league matches (against Deportivo, Rayo, Celta and Mallorca) after being sent off after the clásico
Oier and Ilie also banned
Barça B players Oier Olazábal and Ilie Sánchez have both received one-match bans after their game with Las Palmas. The goalkeeper was shown a red card and Ilie was booked for the fifth time this season.
The Spanish Federation's Comitè de Competición has handed Víctor Valdés a four-match ban in the wake of the red card that he was shown just after the final whistle against Real Madrid. That means he will be missing from the next three games at the Camp Nou (Deportivo, Rayo Vallecano and Mallorca) and one away trip (Celta Vigo).
The FC Barcelona legal services will be presenting an appeal over the next few days against the verdict of the Spanish Football Federation's 'Competition Committee'.
Víctor Valdés, five-time winner of La Liga's Zamora award, has played 34 games this season, in which he has conceded 41 goals.