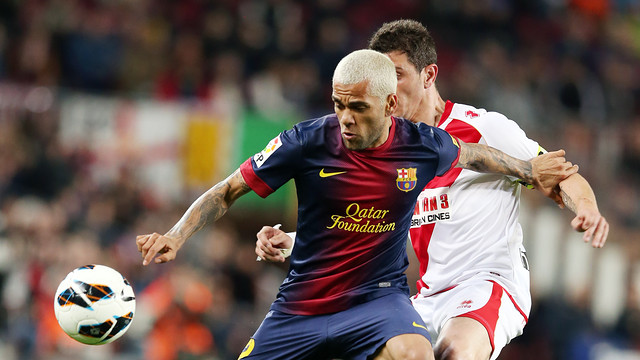 For the third time this year, Barça have recorded three straight wins with their victory over Rayo
For the second time in 2013, the team have won three straight games – beating Deportivo, AC Milan and Rayo, following on from the three wins against Espanyol, Cordoba, and Malaga earlier in the year.
Rayo really pushed Barça – something that's clear from their 43% possession stat during the game.
Shots on goal were also spread evenly, with Barça having 7 to Rayo's 8, compared to total shots of 19 for the hosts and 17 for the visitors.
• Full back Dani Alves, who came on as a first half sub, was the Barça player who made most passes, 67, beating Piqué (58) and Mascherano (55). Trashorras made 87 for Rayo.
• Villa started for his fourth straight game – a record for this season- having been in the starting line-up against Madrid (1-2), Deportivo (2-0), AC Milan (4-0) and Rayo (3-1), scoring against the last two.
• Mascherano has also had four straight starts, alongside Villa, more than any other current squad member right now.
• Jordi Alba and Mascherano won back most possession with 13 and 10 tackles each, whilst Figueras and Trashorras led the stats for Rayo.
• Messi, who has now scored 55 goals this season, with 42 in the league, has scored in each of the last 18 games.
• His two goals also mean that he's got a brace in 17 games so far and is now just 8 goals short of his league scoring record – 50 last season.
• Messi also wore the captain's armband for the first time this season in a league game, taking over when Iniesta was brought off.
• Roura has managed the team for 13 games, winning eight, drawing two and losing three.