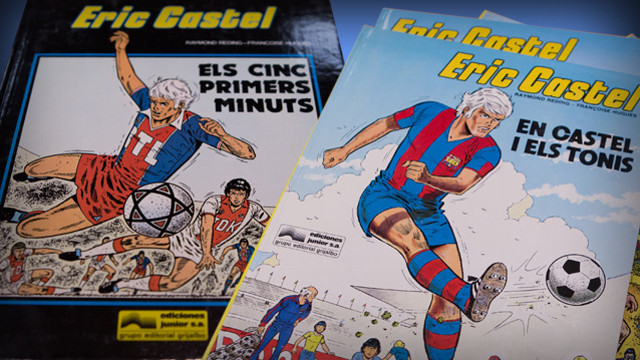 The world famous comic character was created in the 1970s by Belgian artist Raymond Reding, with the scripts penned by his compatriot Françoise Hugues
In fifteen volumes, the Frenchman played for Barça, Paris Sant-Germain and then Barça again, the two teams that now meet in real life in the Champions League
Real life meeting
Eric Castel would probably have his heart divided if he were here to watch Barça and PSG meet in the quarter finals of the Champions League, but given his life story, he would probably have eventually sided with the Catalans.
The first adventures of this white-haired star with a certain resemblance to legendary Italian ace Roberto Bettega go back to the summer of 1974, but in those days he was called Walter Müller, and was a German amateur playing for his company team in Düsseldorf. A talent scout spotted his incredible abilities, and he ended up being signed by Barça. Müller arrived amongst much furore at the Camp Nou saying that it "will be an honour to wear the same shirt as Johan Cruyff". But this 44 page story was the only one ever published about the fictional player.
Barça hero
In 1979, the character was revamped, this time called Eric Castel and coming from France. He was an Inter Milan player who had just returned from a long absence through injury and came to Barça hoping to start rebuilding his football career. He was a left-footed winger with an astonishing goalscoring ability, and before long he was one of the world's greatest players. His goals helped win Barça all kinds of honours, with the first seven volumes of the series describing his rise to fame.
Move to PSG
Though the series was never published in English, it was an enormous hit among French, Spanish and Catalan language readers, for whom Eric Castel became as iconic a figure as Roy Race was among comic readers in the UK.
But Castel was searching for new challenges, and in 1984 he joined Paris Saint-Germain. As fate should have it, but predictably enough in a fictional story, Barça and PSG ended up facing each other in the final of the CEVA Cup, an imaginary trophy based on the former Fairs Cup and of equivalent importance, in the real world, to the modern-day Champions League. PSG lost the first leg 3-2 at the Camp Nou but came back to win 3-1 at the Parc des Princes, with Eric Castel (predictably enough) scoring twice in both matches. His Parisian days were covered by volumes eight and nine of the series.
Controversy and return to the Camp Nou
The whole affair led to outrage among followers of the series, who were devastated by Raymond Reding and Françoise Hugues' decision to transfer Eric Castel to Paris Saint-Germain, and not only that, but to also have him participate in the defeat of Barça in the most important club competition in Europe. The publishers received hundreds of furious letters of complaint, and there was such a massive drop in sales of albums and other associated products that they felt they had no option but to send Castel back to Barça.
European champion with Barça
In 1986, he returned to the Catalan capital, where once again his remarkable goalscoring feats were portrayed with the same artistic brilliance as ever. In 1988, he was able to provide Barça with what he had denied them as a PSG player, as they won their first ever CEVA Cup. It was in volume twelve that Barça faced Girondins Bordeaux over two legs in the final. It was a comic series, after all, so the final was as thrillingly eventful as possible, both teams winning their home legs 4-3. The final having ended 7-7 on aggregate, there were no goals in extra time, and so it all went down to penalties. There are no prizes for guessing what happened next! Sue enough, Eric Castel, who had already scored twice at both the Camp Nou and Parc Lescure, was the man who converted the decisive spot-kick to win the title for Barça, four years before they finally won the continental crown in real life at Wembley in 1992.
These events are covered by volumes twelve to fifteen of the series, at the end of which he returned to France to play for Lille. That was in 1992, when the series was ended with our hero playing away from the Camp Nou. Eric Castel may never have really existed, but for people that grew up in the era, which spanned from the Basel final of 1979 to Wembley 1992, his name will always be remembered with almost as much affection as those of the players that donned the famous jersey in the real world.