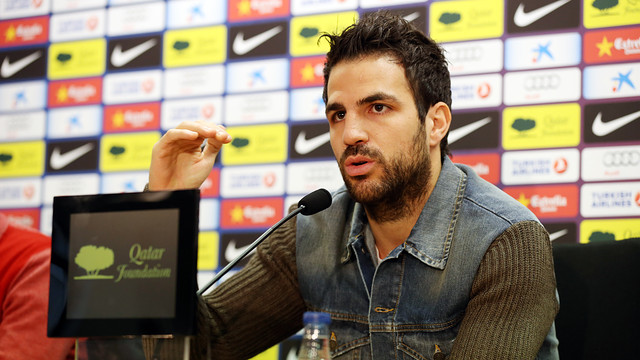 The Catalan midfielder insisted, "We have to give 100% against Deportivo if we want to set ourselves up for Tuesday against Milan"
Fabregas believes that "we have plenty of options of going through to the quarterfinals if we play at our best level"
The best way to prepare for the return leg of the Champions League tie against AC Milan is to produce a good performance against Depor this Saturday in the Camp Nou and secure the three points that will bring the league title a little bit closer. According to Cesc Fabregas, "We have to give 100% against Deportivo if we want to set ourselves up for Tuesday against Milan". But he's also looking forward to "the most important match of the season" because "when there are important matches, the players and the fans get stronger".
One of the keys to overturning the adverse result of the first leg is to know how to keep a cool head from the kick-off and not be in too much of a hurry. "If we don't play with our heads it will go badly for us because getting over-excited isn't good. We have to be clever and we can't just play with our hearts, but with our heads as well. This generation (of players) is due a historic comeback".
At his best level

On a personal note, Fabregas assured reporters today that he's in good shape. "I'm feeling fitter than ever and when I'm needed I'm always there. I'm as strong as ever and I'm training as hard as anybody. Nobody can take away from me the desire I have to achieve something big at this club. If for the good of the team I don't have to play I'll accept it. The Camp Nou fans are demanding and have always been behind us on the big occasions".
Ready to win
"The players are more than capable of playing in big games. Nobody doubts we can do it again, that we can turn it around. But it depends on us. On big occasions, these players have always been there. If we win and play well it could be an incredible leap of quality and motivation. You can't doubt the quality of these players because of three matches".
But how is the team at the moment. Fabregas tells us. "The team is fine. We suffered after the match against Milan. Our confidence went down and we felt that against Madrid in the Cup and the league". Finally, he reminded everyone of "the comeback against Atlético Madrid with Pizzi and against Chelsea" as proof that on Tuesday it will be possible to turn around the tie against AC Milan.