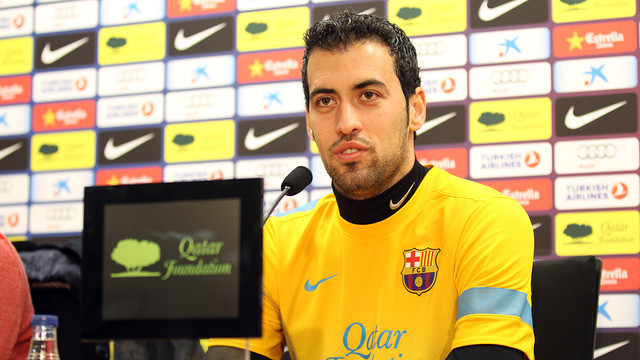 After a fantastic personal display against AC Milan, Sergio Busquets has spoken about what the result means for the team's spirits
Sergio Busquets was one of the big stars of the spectacular result against Milan last night. He was the balancing factor in a team that went all out from the start in search of the goals they needed. Andoni Zubizarreta described the midfielder's performance as something that all the youngsters at la Masia need to study hard and use as a yardstick. But Busquets himself is keeping his feet firmly on the ground. "I just try to do my job well because I know about the repercussions of playing for Barça" he modestly said. "But I am happy with the way things went both personally and as a team, and that's important".
Dream night
Busquets has played in the first team since 2008, so he's had plenty of glory nights at the Camp Nou, but the Milan game last night was something completely new. "It was one of the best games I've experienced. It was the day and the match that we needed" he said. "We have been unlucky when seeking other comebacks. I have always thought that those are the greatest things and now we can say that we got one too. I am so proud to have been part of one of the great comebacks".
"It was good that we had a full week to prepare, the fans were immense before the match and the team was quite aware of that. There was a little bit of everything and things worked out to perfection … It was a great game, very complete, except for the end, when Milan came close".
Learning and improving
But rather than jump any guns, Busquets feels it is still important to remember what happened in the first leg. "All Champions League games are difficult from scratch. The San Siro taught us that there are no favourites, that if we don't do our very best, anybody can beat us and we can suffer … Everything is positive though, it's about learning and improving."
"We didn't do it because we wanted to silence the critics, we did it for ourselves. We're professionals and we like that. Most of us are locals and so it's especially intense for us. You have a bad time when you lose, so these days have done a lot of good for our confidence … But neither did people need to take the situation quite as seriously as they did. All teams have drops in form".