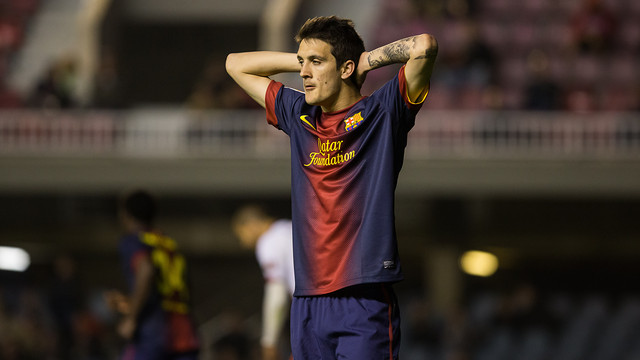 The Blaugrana were defeated at the Miniestadi thanks to a goal from Borja on 33 minutes
MATCH FACTS
Barça B, 0
SD Huesca, 1
Barça B: Oier, Balliu, Patric (Kiko Femenía, min 66), Sergi Gómez, Lombán, Ilie, Espinosa (Pol Calvet, min 88), Rafinha, Luis Alberto, Joan Román (Araujo, min 60) and Dongou.
SD Huesca: Luis Garcia, Diogo, Camacho, Luis Helguera (Rivas, min 68), Echaide, David López, Pacheco, Núñez, Jorge Larena, Nacho Novo (Juan Carlos, min 13) and Borja (Llamas, min 75).
Goal: 0-1 Borja, min 33.
Referee: Pérez Pallas.
Barça B were defeated by Huesca in a match that saw the Blaugrana create a lot of chances but were unable to capitalize on any of them. The reserve side were awarded a penalty in the second half, but Lombán set the ball to the woodwork. Borja fired Huesca ahead on 33 minutes, and it proved enough to win the three points.