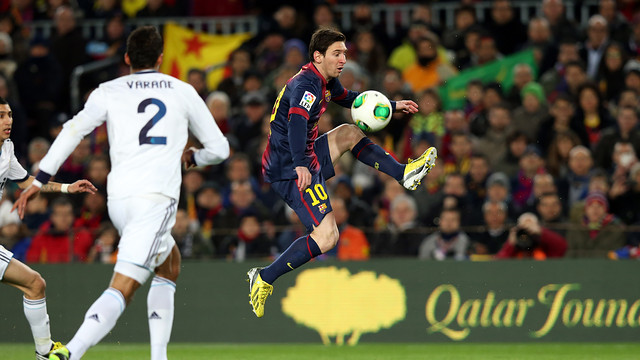 The Catalan and Spanish press predict Madrid will make big changes to the side it presented on Tuesday, while Barça will be without Xavi, who is injured
This Saturday, at 16.00, Real Madrid will host FC Barcelona at the Santiago Bernabéu for the second Clásico of the week. As the two teams ready for yet another showdown – this time in the league – the attention has turned to what changes will be made by Jordi Roura and José Mourinho from the match played on Tuesday.
No Xavi; Messi recovers
FC Barcelona sent out a starting lineup led by Xavi Hernández and Leo Messi against Real Madrid on Tuesday in the return leg of the Copa del Rey. Unfortunately, the vice-captain won't be able to notch up another appearance against Madrid as the Club officially announced this afternoon that the midfielder will miss tomorrow's match due to injury. However, Messi, who missed yesterday's training session due to illness, has shown signs of a speedy recovery. "I haven't talked to Messi in person, but the Club's Medical Services keep me up to date [on his fitness]," says Jordi Roura, according to the Catalan daily 'Sport'. "Messi had a fever but I think he's nearly recovered. Let's hope that his recovery is perfect and that he doesn't have any problems," says the Roura. In addition, the Catalan manager adds: "when you have the best player in the world, it's obvious when he doesn't score. It's just anecdotal if he doesn't score in two or three matches. We have complete and total confidence in Leo, it's ok if he goes a couple of matches without scoring."
Big changes in Real Madrid's squad
Meanwhile Real Madrid, who take on Manchester United at Old Trafford just days after tomorrow's match, might make significant changes to the squad it presented at the Camp Nou on Tuesday, says the Madrid-based daily 'Marca'. The Clásico "will be a very interesting test for Kaká and Benzema," declares the daily. "If the Brazilian or the Frenchman have a good showing against Barcelona, Mourinho would be forced to consider putting them in the team for the match at Old Trafford." The daily goes on to say that Higuaín will probably be benched to make room for one of the two players.
'As' goes a step further and declares that Cristiano Ronaldo, who netted twice against the Blaugrana on Tuesday, will watch tomorrow's match from the bench. "Cristiano will want to play against Barcelona. However, Mourinho will reserve the player ahead of next week's important Champions League match," says the Madrid-based daily.
Speculation aside, the only confirmed absence for Madrid is Ángel Di María. The Argentine will fulfill his one-match ban after he was given his marching orders last week in the game against Deportivo de la Coruña.
"A 19-point Clásico"
Bouncing back to form after a painful defeat is never easy. However Francesc Aguilar, who writes for 'Mundo Deportivo', declares: "Barça should not fall in the trap of devaluing tomorrow's match [due to the existing 16-point difference between the two sides]. On the contrary. Tito Vilanova's men have a chance to pay Madrid back for Tuesday's defeat in the Cup." Opening the gap to 19 points would certainly give the Blaugrana the morale boost they need "especially with the match against Milan coming up in a couple of weeks."