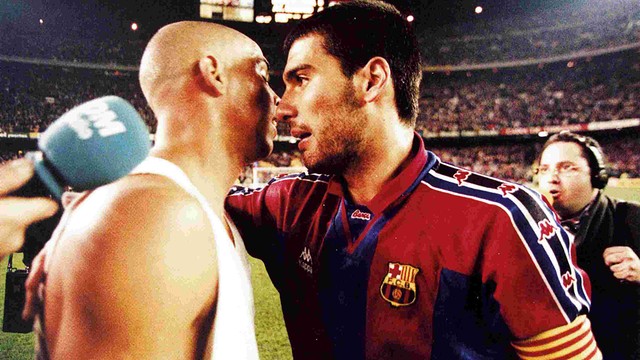 FC Barcelona culminated one of the most amazing comebacks in Club history when Atlético Madrid visited the Camp Nou 16 years ago today
The Madrid-based team jumped to a 0-3 lead only to see the Blaugrana battle back to take victory (5-4)
Barça's goalscorers were: Ronaldo (3), Figo, and Pizzi
16 years ago today, on March 12 of 1997, the Camp Nou was witness to an epic comeback against Atlético Madrid in the return leg of the quarter-finals of the Copa del Rey. The Madrid-based team had taken a 0-3 lead only to see the Blaugrana battle back to a 5-4 victory. Barça's manager was Bobby Robson and the great Brazilian forward, Ronaldo, led the herculean and totally unexpected comeback.
Even though Barça were favoured to make it through to the next round because of the 2-2 from the away leg, Altético came out swinging and quickly jumped to a 0-3 lead, all of them scored by Pantic (min. 8, 28 and 31, this last one from a penalty). The teams went to the break with the 0-3 on the scoreboard, which meant that the Blaugrana needed to score four goals if they wanted to make the semi-finals. It was a colossal task, but it wasn't impossible. On 40 minutes, Pizzi and Stoichkov, two forwards, came in for Popescu and Blanc. Playing in a 3-2-5 formation – the front line made up os Stoichkov, Luis Enrique, Ronaldo, Figo and Pizzi – Barça laid siege to Atlético's goal with the hope of sparking a miraculous fight back.
During half time, Robson simply told his men: "Look at the jerseys you have on and the shield you carry." Said and done. The Blaugrana unfurled their artillery and came at Atlético with everything they had. The Camp Nou erupted when Ronaldo scored a brace (min. 47 and 50). Unfortunately, one minute later an error from Barça's keeper, Vitor Baia, was punished by Pantic, making it 2-4. Despite the blow, neither the team nor the fans gave up hope. Robson's men threw themselves at Molina's goal and the players that defended it and on the 67th minute, Figo scored to make it 3-4.
Ronaldo brought Barça level thanks to an assist from Ivan de la Peña. The 4-4 result would see the Balugrana out of the competition, and it didn't look good as the players were exhausted by the effort they had already put in. It was then that the Argentinian forward, Juan Antonio Pizzi, on the 82 minute, culminated Barça's comeback. The goal prompted Joaquim Maria Puyal to famously belt out "Pizzi, sos Macanudo!" over the radio. The Camp Nou exploded with delight as the team had completed one of the most epic comebacks in Club history.
The feat wasn't in vain, FC Barcelona went on to defeat UD Las Palmas in the semi-finals and in the final, the Blaugrana claimed the title thanks to a 3-2 victory over Betis.