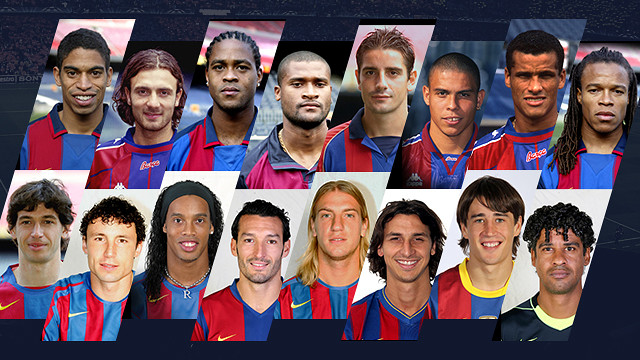 Since the transfers of Reiziger and Dugarry (1997), there has been a flow of players who have made the switch from Milan to Barça, or vice versa
The trend seems to have changed: nowadays the first stop is the Camp Nou but at first it was the San Siro

Rijkaard the shared point of reference
The Dutch coach and former international has also enjoyed great success at both clubs, but in his case it was as a player with Milan and then as a manager with Barça. Frank Rijkaard was one of the stars of the legendary AC Milan side managed by Arrigo Sacchi and later went on to manage Barça and take the Club to its second European Cup.
FC Barcelona has 'shared more players with AC Milan than with any other European club. No fewer than 15 players have been transferred between the two clubs, either directly or via other clubs.
Dutch fullback Michael Reiziger was the first to set the trend, moving to Barça in 1997 in search of regular first team football. He arrived together with Christophe Dugarry – who made less of an impact than his Dutch team-mate – and led the way for fellow countrymen Bogarde and Kluivert. A little later they were joined by the Italian Francesco Coco, who came to Barça on loan.
A change of direction
The first player to maker the journey in the other direction was Rivaldo. The Brazilian star left Barça for Milan in 2002. He would be followed by Ronaldinho (2008), Zambrotta (2008) and Ibrahimovic (2010).
In the nineties, therefore, the tendency was for players to make the move from Milan to Barça while in the new millennium it's been the other way round. The latest player to make the switch was Bojan Krkic, loaned out by Barça to Roma and from there to AC Milan.
Shared stars
Ronaldo Nazario, Edgar Davids, Demetrio Albertini, Van Bommel and Maxi López have also all played for both clubs, although in their cases they spent time with other clubs in between and did not make the switch directly.