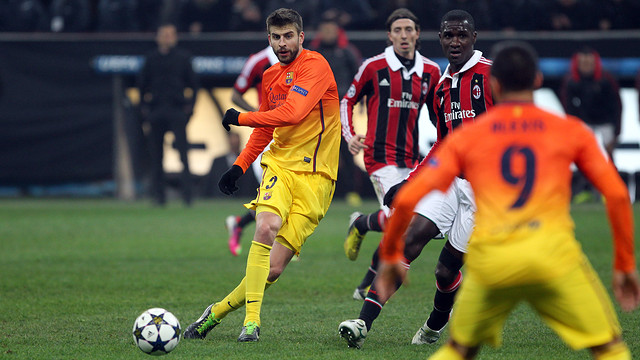 After losing at the San Siro, the full back said that Barça need to improve ahead of the return leg at the Camp Nou

"We are Fútbol Club Barcelona and we have to fight back." This was Gerard Piqué's call to arms ahead of the return leg of the Champions League round of 16 on March 12 against Milan.
The Catalan is disappointed with the team's performance and he noted that "we had the match under control in the first half but we didn't play well in the second. We fell apart after they scored the opener, it was out of control. We have to improve and learn from this."
Lastly, Piqué reiterated that Milan are a dangerous side and that his teammates never underestimated the Italian side. "It looked as though they were coming into the match as victims but we know this club, the history they have … there are no excuses, the pitch, the referee, nothing, we have to work hard to fight back," said Piqué.
Dani Alves
"We have to be better competitors. We didn't play a good game, we didn't create goalscoring chances and that's what you have to do to win."
"It's not that we played terribly after the first goal. We didn't play well in general and that's largely due to how well our rival played. We have to improve."
"This is a difficult result. We have to fight back, go for the [return] game and work hard."
Andrés Iniesta
"I don't think this game was lost because of small details, I think we lacked freshness, we didn't create chances, and they were well organised. This is the Champions League."
"We have to think about the return leg and make sure it turns out differently, we have to try and score from the first minute."
Cesc Fàbregas
"We weren't on our game physically, they were strong and it hurt us."
"We're Barça and we have to play at the highest level, we simply didn't play a good match."
Sergio Busquets:
"We're very eager for the return leg so that we can turn this tie around."
"It's time to fight back. When you lose you always have to think about what went wrong and we have to prepare for the match as best we can."
Carles Puyol
"The worst thing about it all is the result, neither side really created that many chances."
"It's time to mount a comeback in front of our fans."
"They were more aggressive, we have to improve in the return leg. We have to have confidence in this team, we can't give up. We're going to play at home in front of our fans, we aren't going to give up."