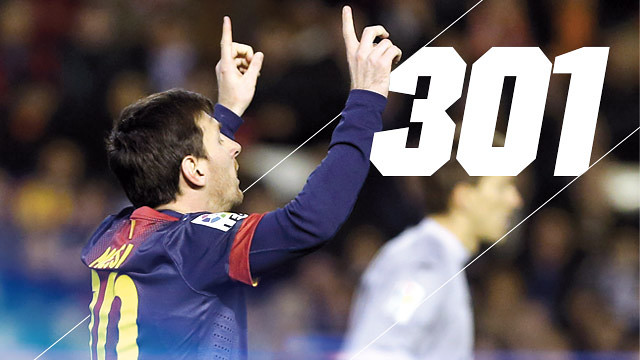 The 25-year-old Argentinian broke the 300-goal barrier with FC Barcelona. His goal per game average stands at 0.82
Messi has scored 206 in La Liga, 56 in the Champions League, 24 in the Copa del Rey, 10 in the Spanish Super Cup, 4 in the Club World Cup and 1 European Super Cup
Els 300 gols de Messi
– 206 in La Liga
– 56 in the Champions League
– 24 in the Copa del Rey
– 10 in the Spanish Super Cup
– 4 in the Club World Cup
– 1 in the European Super Cup
No record is safe when Leo Messi is on the pitch. The Argentinian took his all-time official goal tally as a Blaugrana to 301 goals. The 25-year-old only needed 366 matches to reach this mark. His goal-per-game average stands at 0.86. He scored his first on May 1 of 2005 at the Camp Nou against Albacete, his 300th and 301st goals were scored this Saturday against Granada. In addition, he's netted in 14 consecutive La Liga matches.
48 goals this season
Barça's number 10 has scored in every competition he's featured in this season. In La Liga his goal-per-game average stands at 0.86, and in the Champions League it's 0.75. The Argentinian is improving on the numbers he put up last season. He scored his 100th official goal for Barça on the 17th of January of 2010 (against Sevilla), his 200th, on the 1st of November of 2011 (away to Viktoria Plzen), and his 300th, this evening. This season he's scored 37 goals in La Liga, and 48 in all competitions.