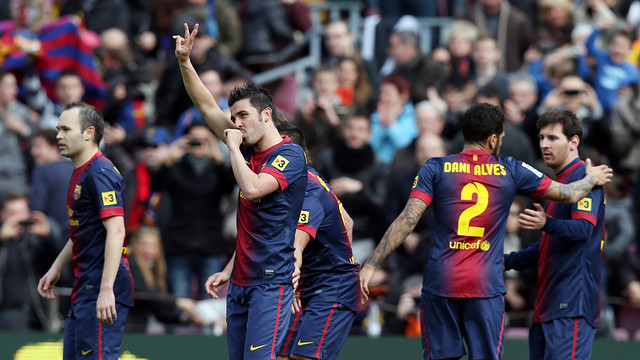 Barça's three forwards scored the first three goals of the match against Getafe. Andrés Iniesta's passing and vision of the game was fundamental for the Blaugrana. The last time Barça scored as many goals in a Liga match was in November of 2011, against Rayo Vallecano, and this is the first time three forwards have scored in a match that started at noon
The midday match at the Camp Nou was one of Barça's most brilliant in La Liga and it also saw 86,610 fans make their way to the stadium, the third best attendance of the season. In addition, kick off time made the match much easier to watch in China. Coinciding with the Chinese New Year, Barça played a brilliant match as the Blaugrnaa fired for six goals to Getafe's one (the first match this season that's seen six Barça goals). On offence Barça were devastatingly perfect. The attacking three – Alexis, Messi and Villa – opened up the scoring, and Tello, Iniesta and Piqué rounded off the scoreline. In fact, the last time Barça scored six goals was in November of 2011, against Rayo Vallecano.
Alexis Sánchez
Motivated from the starting whistle, the Chilean forward was the perfect comrade in arms for Andrés Iniesta. The midfielder picked out Alexis with a brilliant assists before the Chilean cooly slotted the ball past Codina. Alexis also played a fundamental role in creating chances. Near the end of the first half, the Chilean found Messi in the area, but the Argentine was denied by the woodwork. Minutes later, Alexis linked up with Thiago in the area but Codina did well to save the midfielder's shot.
Lionel Messi
The Argentinian's goalscoring record-breaking hot streak continues for another week. Leo Messi has now scored in 13 consecutive La Liga matches and he's just one goal away from netting his 300th career goal for Barça. The Argentinian is proving to be absolutely fundamental in Barça's attack, not only because of to his goals but also for his assists.
David Villa
When David Villa scores, Barça does not lose. The statistics are clear: Barça have won 22 matches, tied one, and haven't conceded defeat when Villa finds the back of the net. The Spanish forward was the third player to score against Getafe, it was his sixth goal in La Liga this season. Before this afternoon, Villa's most recent goal was against Celta. Villa dedicated his goal to his new son, Luca.
Andrés Iniesta
Sublime match from Iniesta against Getafe. The Spanish midfielder notched up his 200th victory from 288 games in Spain's top flight. Iniesta, who leads the team in assists (13), put in a spectacular performance this afternoon and he showed the 86,610 fans at the Camp Nou the remarkable talent he has when he's on the ball.