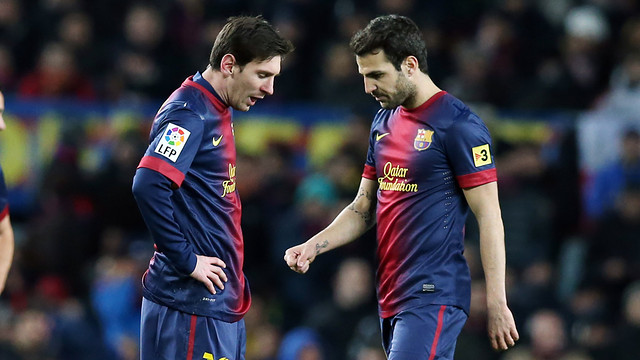 Cesc Fàbregas says "the two most important titles are coming up and we have to move forward"
The Barça midfielder goes on to say that "this won't affect us ahead of the match against Milan"
The team will train on Wednesday afternoon. Andrés Iniesta will hold a press conference after the session.
It's time to pick up the pieces, recover, rectify and bounce back after this evening's blow against Real Madrid. This is exactly what Cesc Fàbregas said after the match, who refused to give any excuses for this evening's defeat. "We have to give more, we have to pick ourselves up, move forward and win on Saturday."
He went on to say that this in Wednesday's game, Madrid "hurt us on the counter and that's their specialty; the 0-2 crippled us.
"We have to learn from this … the two most important titles are coming up and we have to move forward," he declared. He added that tonight's match against Madrid "has nothing to do with the one against Milan, they are two different competitions. I believe in this team."
Cesc was honest about how he was feeling after the match: "We're a bit down but starting tomorrow we have to start working hard because we represent a very important institution." Lastly, he thanked the fans for supporting the team throughout the whole match: "I'm very thankful to the fans, they never stopped cheering us on."
Here are the statements made by other FC Barcelona players after the match:
Jordi Alba:
"We're upset, we wanted to make it to the final but the penalty and the 0-2 really hurt us. We fought but it wasn't meant to be, this defeat will make us stronger ahead of the Champions League."
"We started off well, we created chances but on one typical Madrid counter they won a penalty, and that hurt us."
"We've lost two crucial matches but we still have the return leg against Milan and I'm sure we will do better. If we score early, we'll have a great chance to make it through to the next round."
"The team showed that it can win any tie."
"I want to thank the fans for their support."
Sergio Busquets:
"I think we were playing relatively well and the result is a bit excessive, the way they scored the first two goals really hurt us."
"We're not doing well at the moment, we're going to fight for the Champions League, which will be difficult but not impossible, and for the Liga."
"Time cures all wrongs, in four days we have another league match and we have to try to win this important title."
Dani Alves:
"We didn't compete well, we traded blows and that's not our style, we need to learn from this."
"There's no room for error if you don't compete well at this level. They are fast up front and they closed themselves off well at the back."
"The people know that we tried and they acknowledged our effort, but sadly at this level you can't give away chances."