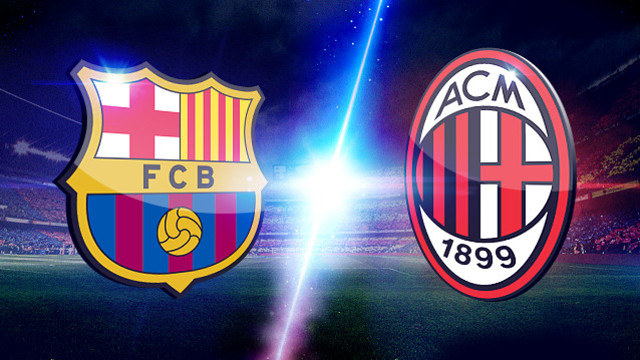 Barça have better stats in the UCL than AC Milan in just about facet of the game, especially possession, where their percentage of 71 dwarfs the Italians' 49%
Tito Vilanova's side has also made the most passes (5,078 in six games) and 85% of those have been completed
Barça have the ball for 45 real minutes of play per game, and have converted that dominance into 11 goals

Barça have far more impressive stats in the Champions League games played so far than AC Milan. It is also no secret that the rival teams have very different approaches to the game, and the numbers back that up.
Possession: Barça trademark, Milanese concern
Control of the ball is what basically defines the FC Barcelona style, and the Catalans have been simply poetic in this aspect of the competition so far. Xavi, Iniesta, Messi and co have held 71% of possession in the six games played to date, equating to 45 minutes of real play. No other team in the round of 16 has stats that even compare with that.
AC Milan have only had 49% of the possession, one of the lowest totals in the competition, and which clearly reflects the way they are happy to cede possession to the other side, keep it tight at the back, and look for chances on the counter attack.
Another clear example of this clash of styles is how Barça have made 5,078 passes in six games, and completed 4,334 (85%) of them. That's massively more than the 2,917 made by the Italians, of which just 1,967 (68%) have found their target.
Prowlers of the area again long-range kings
It's not just in terms of dominating the possession and passing the ball around that Barça are proving far superior to the Serie A leaders. They are also scoring more goals, eleven (1.83 per game). Eight of these have been scored from inside the area and three from outside. The Italians have scored 7 times, and four of those were from long range and just three from inside the box. They've averaged 1.18 goals a game.
Barça have also shot more times, 61, with 40 of these efforts coming from inside the area and 21 from outside. Once again, the stats supplied by UEFA suggest the side coached by Massimiliano Allegri works the opposite way. Of their 46 attempts, 30 have been from outside and 16 from inside the area, suggesting that the Italians are more inclined to go for speculative long-range efforts, while Barça prefer to pass the ball through to the strikers prowling in the area.
| | | |
| --- | --- | --- |
| | FC BARCELONA | AC MILAN |
| GOALS | 11 | 7 |
| GOALS PER GAME | 1,83 | 1,17 |
| GOALS INSIDE AREA | 8 | 3 |
| GOALS OUTSIDE AREA | 3 | 4 |
| GOALS FROM HEAD | 1 | 1 |
| SHOTS ON GOAL | 61 | 46 |
| SHOTS INSIDE AREA | 40 | 16 |
| SHOTS OUTSIDE AREA | 21 | 30 |
| PASSES ATTEMPTED | 5078 | 2.917 |
| PASSES COMPLETED | 4334 | 1.987 |
| PASS EFFECTIVENESS | 85% | 68% |
| BALL POSSESSION | 71% | 49% |
| REAL MINUTES (PER MATCH) | 45 | 29 |
| CORNERS FOR | 42 | 29 |
| FOULS RECEIVED | 91 | 91 |
| FOULS COMMITTED | 46 | 78 |
| YELLOW CARDS | 11 | 17 |
| RED CARDS | 1 | 0 |