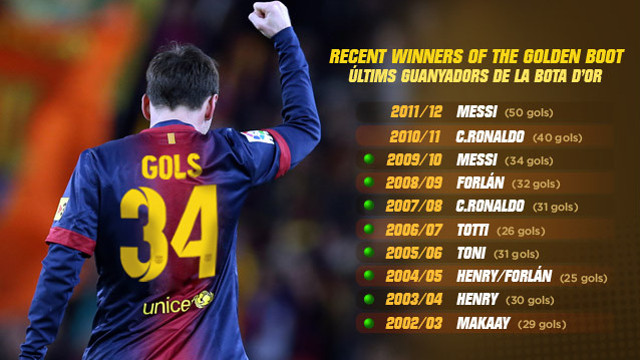 Eight of the last ten Golden Shoe winners won the award after scoring 34 goals or less. Leo Messi has netted 34 times this season in La Liga
The Argentine leads the pack for the award, he's ahead of Cristiano Ronaldo, Van Persie, Falcao, Jackson Martínez and Cavani, his closest pursuers
With 34 goals under his belt, Messi is outpacing the highest goalscorers in the Premier League (Van Persie, 18 goals) and the Bundesliga (Mandzukic, 14) combined

The last 10 Golden Shoe winners
2011/12 Messi (50 goals)
2010/11 C. Ronaldo (40)
2009/10 Messi (34)
2008/09 Forlán (32)
2007/08 C. Ronaldo (31)
2006/07 Totti (26)
2005/06 Toni (31)
2004/05 Henry/Forlán (25)
2003/04 Henry (30)
2002/03 Makaay (29)
The season is entering its final stage, finalists will win their spot in championship matches and champions will be crowned. In addition, things are also clearing up in terms of who will claim the highest individual honours. One of those honours is the Golden Shoe award (formerly known as the Golden Boot), an award that Leo Messi is rapidly becoming the favourite to win.
Very well positioned to win the award again
The Argentine, who won the award in the 2009/10 and 2011/12 seasons, leads the race for this year's edition of the Golden Shoe award with 34 goals and a total of 68 points (each goal in Primera Divison is worth two points). He's followed by Cristiano Ronaldo (21 goals and 42 points), Van Persie, Falcao, Jackson Martínez and Cavani (all with 18 goals and 34 points).
An extraordinary mark
Messi's current goal tally, 34 goals from 22 league matches, would be enough to win him eight of the last ten Golden Shoe awards. Apart from the two most recent editions of the award, where Cristiano Ronaldo scored 40 goals a year before Messi scored 50, the Argentine has already outpaced the last eight winners.
He's bested historic goalscorers like Forlan (32 goals in 2008/09), Cristiano Ronaldo (31 in 2007/08), Totti (26 in 2006/07) and Luca Toni (31 in 2005/06), and he's equalled the Golden Shoe winning mark that he set in 2009/10.
Leo Messi, however, still has 16 matches to extend his lead over his immediate pursuers.
The highest goalscorer in Europe
The four-time FIFA Ballon d'Or winner is also outpacing the most prolific goalscorers in the other big European leagues. In fact, if we combined the goals scored by the highest goalscorer in the Premier League (Van Persie, 18 goals) and the Bundesliga (Mandzukic, 14), the total wouldn't equal Leo Messi's currently tally. Indeed, the same goes for the highest goalscorers of Serie A (Cavani, 18) and Ligue 1 (Ibrahimovic, 20). Messi is the king of goals.