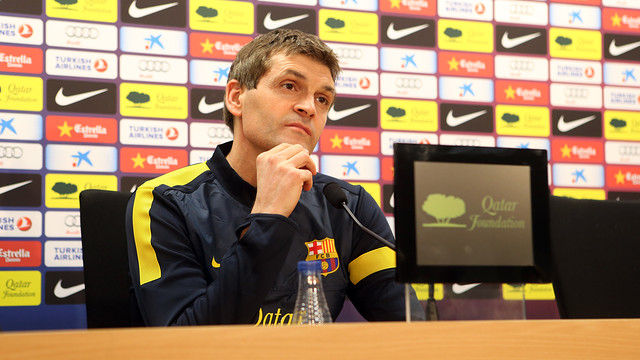 The manager has admitted that he was surprised by Víctor Valdés' announcement today, but insisted that "he did not ask to leave, he just said he's not renewing his contract"
Vilanova has confirmed that Valdés will continue to be the first choice keeper, saying that "as long as he is with us, he'll be our goalkeeper and we have to help him as he would help us"
Tito Vilanova's Friday press conference was dominated by talk of Víctor Valdés' announcement today that he will not be extending his contract with FCB any further than June 30, 2014. The Barça manager spoke with respect for that decision, and defended his goalkeeper. "Everyone is free to work where they like" he said. "Víctor did not ask to leave, he just said he's not renewing his contract and we have to respect that … As long as he is with us, he'll be our goalkeeper and we have to help him as he would help us".
Best goalkeeper in recent years
The manager felt Valdés had done the right thing by making his decision known when he did. "He has been direct and sincere. We should appreciate that" he said. "There is never a good time for a player like Víctor to say that he is leaving the club. I don't know what the ideal moment would be. But he has shown his face, and hasn't waited until the last minute and didn't even start making negotiations."
What Vilanova does know is that he deserves full honours on his exit. "It would be nice for him to get a good farewell" he insisted. "He deserves that after all he has done for the club … And it is very important for the Barça fans to respect his decision and appreciate all that he has achieved. I hope he gets the send off that the best goalkeeper we have had for a long deserves." He also reminded anybody who felt offended by the player's decision to "spare a thought for the players that want to renew their contracts but the club says no".
Carrying on
There was another point that Tito Vilanova wished to make clear. "As long as Valdés carries on perfuming like he has done, then I'll have no doubts about him continuing to play … I don't doubt his professionalism in the slightest and he will continue to help us to win matches and titles … I don't think he's upset with us, but quite the opposite. Barça is a magnificent place, but we all have the right to go off and play in other places, cultures and clubs."
Out to win against Real
Vilanova added that the players are clearly taken aback by what Valdés has said, but refuses to accept that this will make a difference when they take to the field on Saturday, away to Real Sociedad. "We'll get down to the job and go out to win the game. There is always news being generated by this club, but what the players have to do is go out and win matches." And that is no easy matter against a strong home side like Real. "They have always played well against us and this won't be easy" he said.