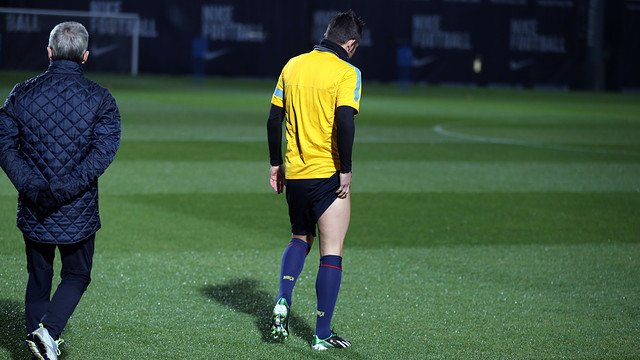 The striker pulled a leg muscle in Saturday's training session and will miss Sunday's game against Malaga
However, Adriano has received the green light from Club doctors and has been included in a 20-man squad for the Rosaleda
La llista
Valdés, Pinto, Alves, Montoya, Piqué, Puyol, Bartra, Song, Mascherano, Alba, Adriano, Cesc, Busquets, Xavi, Iniesta, Thiago, Pedro, Alexis, Messi i Tello
David Villa has been ruled out of Sunday's clash against Malaga after straining a leg muscle in training on Saturday afternoon. Just how long he'll be out of action will depend on his progress in the next few days.
20-man squad
On the plus side, Adriano Correia is back in contention after missing out on the win against Cordoba. Piqué, Xavi, Iniesta and Pedro, all of whom were rested for the Cup game, have also been named in the squad of 20 players who will make the trip to Malaga. Dos Santos has been dropped from the squad while Cuenca, Muniesa and Abidal remain on the injury list.
Saturday training session
Tito Vilanova led the training session before announcing his squad. Both Cuenca and Adriano worked out with the main group.
The players will leave the Camp Nou for Malaga at 9.15 am on Sunday and are due to land in Malaga at 12 noon. The match will kick off at 9 pm (Canal Plus).