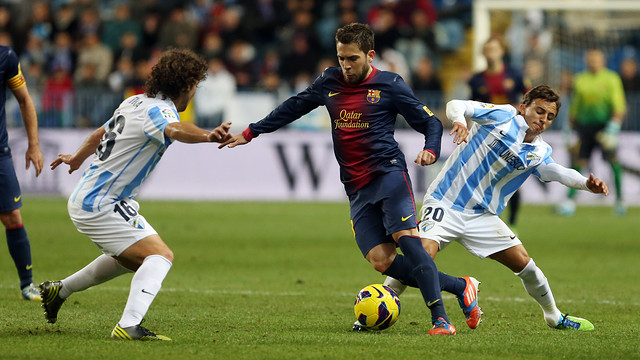 Barça have won their last five league matches in the Rosaleda

The 2-2 draw in the Camp Nou has left the quarterfinal Cup tie wide open. The second and deciding match will be in Malaga's Rosaleda stadium, where Barça have won on their last five league visits. A repeat of any of these score lines next Thursday will hand Barça a place in the semi-finals.
Victory by two goals
But it gets even better. FC Barcelona have not only won the last five league encounters in Malaga, they've done so by at least a two-goal margin. In the 2008/09 and 2011/12 seasons they won 1-4 while in 2009/10 it was 0-2 and in 2010/11 and 2012/13, 1-3. In fact you have to go back to 25th March 2006, when the two sides fought out a goalless draw, to find a result that would eliminate Barça. Plenty of scope for optimism there.
Fight back in Zaragoza
However, leaving aside the results against Malaga, the record books don't paint such a rosy picture when it comes to successfully overcoming a first leg home draw. That's only happened twice before in the Cup and on both occasions Barça were eliminated. In the 1934/35 season, they drew 2-2 with Levante and could only manage a 1-1 draw in the return leg. Coming back nearer to the present day, they drew 3-3 against Atletico Madrid in the 1988/89 season in the Camp Nou and then lost 4-0 in the second leg.
But there's a final positive stat. In the 2006/07 season, at the orders of Frank Rijkaard, Barça lost the first leg 0-1 against Zaragoza but went on to win 1-2 in the second leg and qualify for the next round.