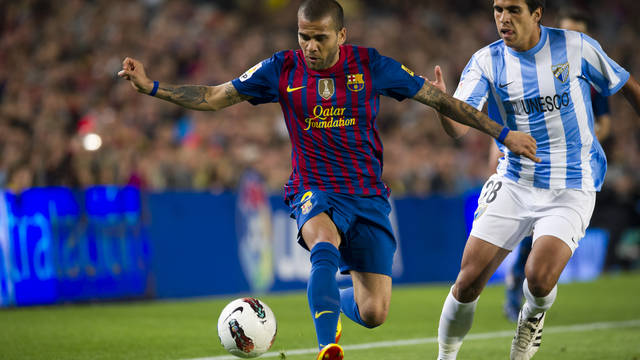 Málaga CF have earned the right to be feared in Spanish football. They currently sit in fourth, just four points back from Real Madrid, in the table, and they are one of a handful of teams in the Champions League yet to concede defeat
HISTORY
Founded midway through the 20th century, Málaga enjoyed successful spells in First Division in between its time in Spain's Second and Second B Divisions. Its first (and only) top-flight trophy – the Intertoto Cup – was won in 2002, and the team reached the quarter-finals of the UEFA Cup the following season.
Just before the 2010/11 season started, Sheikh Abdullah ben Nasser Al Thani invested heavily in the Andalusian side. Julio Baptista, Ruud van Nistelrooy, Martín Demichelis, and Santi Cazorla were brought in to bolster the team. Manuel Pellegrini, after a spell at Real Madrid, took the reins from Rafa Gil and led Málaga to their first ever Champions League berth last season.
FORM GUIDE
Sitting in fourth, just four points adrift of Real Madrid, Málaga have become a feared side in Spanish football. Of their last six La Liga matches, they've won four and lost two. They defeated Real Madrid by 3 to 2 at La Rosaleda in December before losing on the road to Deportivo. Previous to these two matches, Málaga claimed victory at the Sánchez Pizjuán over Sevilla (0-2), defeated Granada (4-0), lost away to Getafe (1-0) and routed Valencia (4-0). But Málaga's great run in La Liga only shows a glimpse of how well they've done this season. Manuel Pellegrini's men edged out Milan, Zenit and Anderlecht for the top spot of Group C in the Champions League. What's more, they did it without losing a single match. Only three other teams – Schalke 04, Borussia Dortmund and Juventus – can boast a similar undefeated record in the European competition.
ONES TO WATCH
Joaquín, Duda, Saviola, Santa Cruz, Toulalan, Demichelis, Camacho, Portillo . . . take your pick, all of them can sway a match in Málaga's favour. However, today we're going to focus on Isco and Willy Caballero. Francisco 'Isco' Alarcón Suárez followed in Leo Messi, Cesc Fàbregas, Wayne Rooney, and Mario Gotze's footsteps when he was awarded Tuttosport's 2012 Golden Boy Award. The award is given each year to the best young player in Europe. Isco, who has featured in all 18 of Málaga's La Liga matches this season, has become a crucial player in Pellegrini's starting line-ups. He's netted seven times this season for the Andalusian side- five in La Liga and two in the Champions League – and has doled out eight assists. While Isco is tasked with setting up and scoring goals, his teammate, Caballero is tasked with stopping them. The goalkeeper, having conceded the least amount of goals in La Liga so far this season, leads the pack for the coveted Zamora trophy.
The Andalusian side have proved they can beat anyone on their day (Real Madrid, Milan, Valencia, Sevilla, to name a few), and the Blaugrana know it. Tomorrow's match will be the first of three encounters between the two sides in less than two weeks, and it's shaping up to be a fascinating clash between two very talented teams.