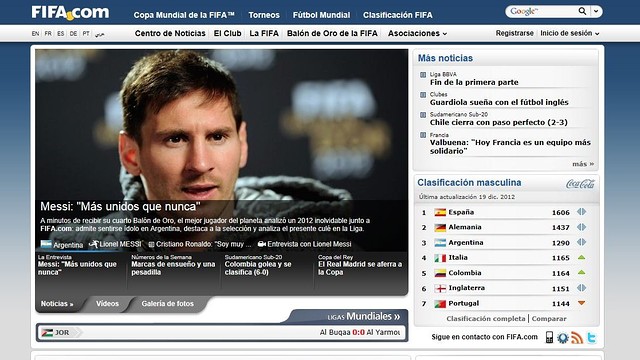 In an interview with FIFA.com, the Barça striker has admitted that La Liga is in the team's own hands but that they will still need to work hard to keep the two Madrid clubs at bay
Messi reckons the most important goal he scored in 2012 was against Athletic Bilbao in the Copa del Rey Final

Cop Final goal
Leo Messi ended 2012 with an amazing 91 goals, a new world record. He was asked which one he liked best, and answered that "I always remember goals for how important they are rather than how good they are. Goals in finals, like the one I got against Athletic Bilbao in the Copa del Rey Final, that was the most important".
Hours before he received the Ballon d'Or, Leo Messi gave an interview to FIFA.com in which he looked back at an eventful 2012. He spoke about Pep Guardiola, Tito Vilanova, Éric Abidal, his goalscoring record and the team's excellent form in general. He also described the improving fortunes of the Argentinian national team.
Liga lead
Leo Messi is aware that the Liga is not a done deal, even though the side is in a commanding position. "We are well aware that there is still a lot for us to do. La Liga is our hands thanks to the lead we have built up and what we have done, but we can't afford to relax … We know what Atlético Madrid can do, and that we are up against a great side. And you can never ignore Real Madrid because they fight to the end and have managed to cut down big leads in the past … So we're not relaxing, but at the same time we're confident that we won't have any trouble maintaining the same form showed until now".
New management
The Argentinian also explained the switch from Pep Guardiola to Tito Vilanova. "The way we work and prepare for games is much the same" he claimed. "What has changed is that Guardiola and Tito have different personalities, different ways of handling the squad … They each have their own ideas and style … But when it comes to playing and coaching, things are much the same as they have been for the last four years".
Difficulties for Abidal and Tito
Messi knows that 2012 was also marked by difficult times concerning the illnesses of both Tito Vilanova and Éric Abidal. "We got over one situation and then found ourselves faced with another, and all of that meant much more than the results of football matches. They were very nasty situations. It was obviously tough, but we knew we could cope. We are always united, and thanks to God things went well for both Abidal and Tito. They do still have to undergo treatment, but things are looking good. That's the most important thing".
Leo Messi has no doubt what he wants in 2013. "My son has now become my number one priority. It has been a very nice change, a big one and now he will always come first. But I also hope that what Abidal and Tito have been through gets left behind for good and that they can get well. That, and good health for for me, my family and my people." But that doesn't mean he doesn't also want success on the football field. "Let's hope we can win another title, as we have been doing" he added.