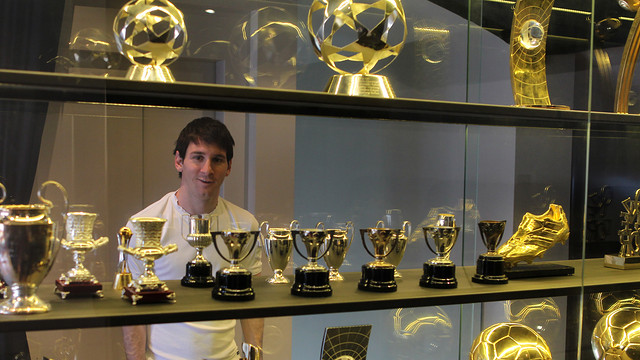 The Argentinian has continued to rewrite the football history books with his fourth consecutive Ballon d'Or
Top Ballon d'Or
Four: Leo Messi
Three: Johan Cruyff, Michel Platini i Marco Van Basten
Two: Karl-Heinz Rumenigge, Kevin Keegan, Franz Beckenbauer i Alfredo Di Stefano
Everything Leo Messi touches turns to gold! In Zurich today, he has done something no man has ever done before. He has been named the best player in the world for the fourth year running. After beating Cristiano Ronaldo and Andrés Iniesta he has once again shown us that, as far as his trecord breaking career is going, there simply are no limits.
Golden boy
Leo Messi's first Ballon d'Or came in December 2009, when a massive 473 points were enough to beat both Cristiano Ronaldo (233) and his FCB team mate Xavi Hernández (170).
A year later he won the award once again in that historic year when Barça players filled the podium. Andrés Iniesta and Xavi Hernández cam second and third at the ceremony held in its now traditional venue of Zurich.
Last year, Leo Messi made it three, once again beating Cristiano Ronaldo and Xavi Hernández in the voting and equalling Platini as only the second player to have won the honour three times in a row.
But Messi has now gone one better than the Frenchman who is now president of UEFA. The Argentinian has set an all time record by winning the title for the fourth time.
From Platini to Messi
The record for consecutive wins in the Ballon d'Or, three, was shared until now by Michel Platini and Messi. The Frenchman was playing in the Italian Serie A for Juventus at the time of his three wins in 1983, 1984 and 1985.