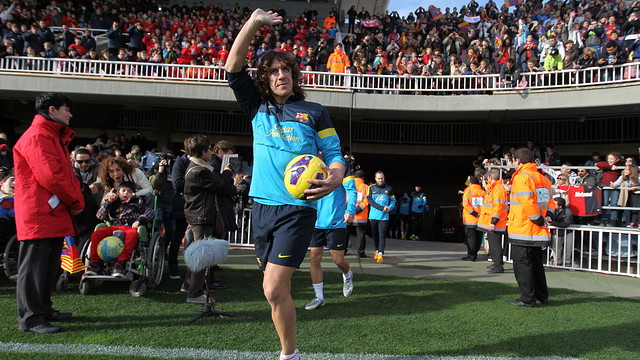 The first team has held its traditional festive open-doors training session. Attended by almost 14,000 spectators
During the session, Adriano Correia twisted his right ankle and left the field as a precautionary measure

The Miniestadi was once again the venue for a memorable open-doors training session. 13,855 fans turned up to watch their Barça first team heroes train.
Jordi Roura took command of the session, with Tito Vilanova preferring to sit it out in order for the attention to be focused entirely on the players. Instead, the first team manager got some other work done in the Camp Nou offices.
Adriano off as precaution
The team went through its usual warm-up routine and then did an intense possession-based drill. It was during this that Adriano Correia twisted his ankle and was taken off as a precautionary measure. A much applauded Éric Abidal exercised separately, as did Valdés, who is following a specific programme. Barça B keeper Oier Olazábal also put in an appearance.
Meanwhile there were plenty of other surprises to keep the fans amused, including the Barça Toons. At the end of the session, the players kicked balls into the crowd, and some fans were even lucky enough to be able to take photographs with their heroes or get their autographs