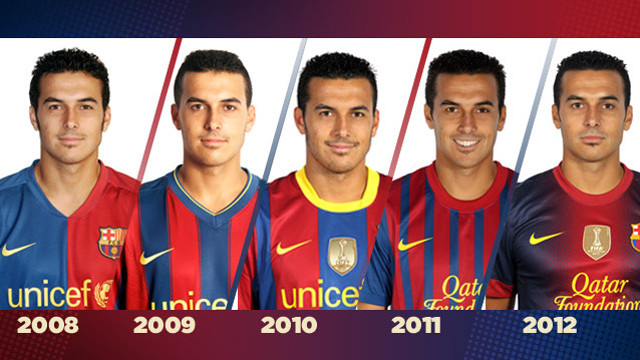 Pedro made his debut on January 12th 2008 against Murcia, under head coach Frank Rijkaard
Pedrito has been Pedro for quite a while now and this Saturday marks the fifth anniversary of his debut with the first team, made on January 12th 2008 in a game against Murcia. Coach Frank Rijkaard gave him his start, bringing him on for the final minute.
Below we look back over his first team career through ten unforgettable events:
12th January 2008. Barça first team debut. Comes on for just a minute in place of Samuel Eto'o against Murcia (4-0). Later that campaign he gets five more minutes against Valladolid (4-1).
16th August 2009. Gets his first goal, in the 'Cathedral' of San Mamés, against Athletic Bilbao in the first leg of the Spanish Super Cup, helping Barça to a 1-2 lead in the tie.
20th August 2009. Signs his first contract with the senior squad, though he had already made 14 competitive appearances in the 2008/09 season at the orders of Pep Guardiola.
28th August 2009. His second first team goal – scored in the second half of extra time – secures the European Super Cup in Monaco against Shakhtar Donetsk (1-0).
16th December 2009. His goals in Abu Dhabi (including a decisive strike in the final) help Barça win the Club's first World Club Cup and make him the first player ever to score in six different competitions in the same season. His gift for goals is confirmed.
27th February 2010. Celebrates his 50th appearance with the first team with another decisive goal against Malaga in the Camp Nou (2-1), bringing his total to 16 in his opening half century of matches.
20th May 2010. His Club form (23 goals in 52 appearances) brings him to the attention of Spain manager Vicente del Bosque, who hands him his international squad debut for the World Cup in South Africa. Forms part of the opening line-up in the team that lifts the winner's trophy in the final.
29th January 2011. Scores in six consecutive league matches, equalling the record jointly held by Escolà (1944/45), Quini (1980/81) and Stoitchkov (1993/94).
28th May 2011. Yet another goal helps Barça to a fourth Champions League final win, in Wembley.
25th May 2012. Once again, he helps Barça to another final victory with two goals in the Spanish Cup final against Athletic Club (3-0).