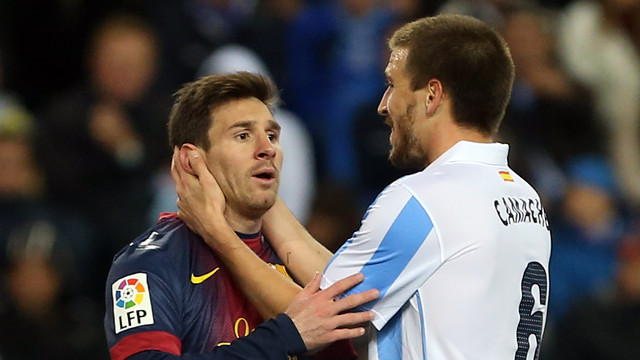 21.30, GolT, Canal+ Liga – The cup quarter final is the same game as last Sunday

72 hours after meeting in La Liga, Barça and Malaga go head to head once again, this time at the Camp Nou. But the occasion will be very different, because this fixture is a Copa del Rey quarter final first leg, and something of a double-edged sword for Tito Vilanova and his men. The Andalusians will be looking to avenge the 3-1 defeat suffered at their home ground last Sunday. However, a similarly convincing performance from the Catalans would leave them on the verge of semi final qualification against a side that is desperately hoping not be outplayed to the extent that they were in a league encounter that is still very fresh on everyone's memory.
No Villa
Vilanova has the same squad at his disposal as for the Liga match. David Villa is still having trouble with his right femoral biceps and sits this one out along with Cuenca, Muniesa and Abidal. This means that three names will have to be dropped from the list before kickoff.
Saviola returns
Barça are likely to make several changes to the team that featured on Sunday night. The same could be the case with Malaga, who have recovered right back Jesus Gámez from suspension, and who is likely to step in for Sergio Sánchez. Also, former FCB man Javier Saviola, who didn't feature in the league match, may be able to enjoy an emotional return to the FC Barcelona, the club where he began his European adventure.
But the most important thing is for Barça to get a good result to take to the second leg in Andalusia in a fortnight's time. As ever in two-legged affairs like this, one of the keys is not letting the opposition get any away goals. If that happens, then Barça will have every reason to feel confident about continuing their cup title defence into the penultimate round.