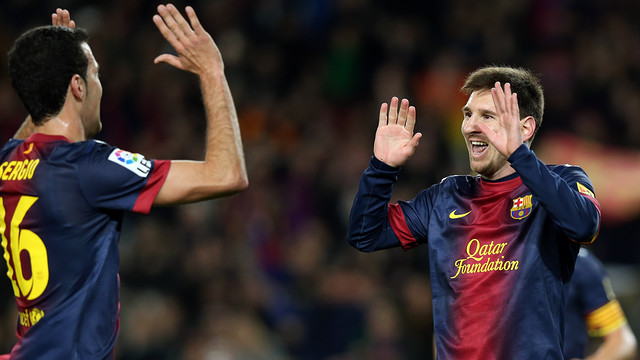 Xavi, Pedro (2) i Messi (pen) han posat el 4-0 en el marcador abans del minut 30
Tito Vilanova, intervingut el 20 de desembre, s'ha assegut a la banqueta del Camp Nou

It's a Spanish tradition for the three kings to bring presents to mark Epiphany and the end of the festive season, but tonight it was the Barça players who once again showed themselves the Kings of Football, brushing aside local rivals Espanyol with a whirlwind first 30 minutes and handing their returning coach Tito Vilanova and the Camp Nou faithful a great New Year gift, as they chalked up their 11th straight La Liga win.
The game could easily have ended with an even bigger winning margin, with Pedro having two goals disallowed and Messi hitting the woodwork, but the win means that Barça have now equalled the record for the best ever first half to a season with one game still to go. It was the Night of Kings and Barça duly put in another majestic performance to confirm their top spot in the table.
Whirlwind start
Vilanova sent out the same team he'd fielded against Levante and once again the team managed four goals in a single half. It was a great start, full of fluent, attacking, pacey football and Xavi soon opened the scoring, latching onto an Iniesta pass on 10 minutes. Iniesta then missed the chance to make it two when Cesc put him through with a lovely touch, but Pedro had a bit more luck on the quarter hour mark, as a Messi shot rebounded off him into the net. It was 2-0 and Espanyol had hardly touched the ball.
Four up within half an hour
Although Barça's exhibition of great football continued, Sergio Garcia nearly pulled one back with the visitors' only chance of the half after a mix up in the home defence. However, a great assist from Busquets put Pedro through for the third and almost immediately, Cesc won a penalty and on 30 minutes, Messi strode up to claim the first of many goals he's bound to get in 2013. With such a big early lead, it was only natural that Barça took their foot off the gas a little and there were few more chances before the break.
Thiago and Villa on
Espanyol were more physical in the second half, attempting to cut off Barça's possession football with a series of fouls that broke up the rhythm of the game, but the hosts soon found a way round that with some typical controlled passing. Thiago and Villa had come on for Xavi and Cesc, but the team continued to create chances, with Pedro twice seeing his hat trick denied by the ref for off sides.
Messi hits the bar
Although the game was all but decided in Barça's first half attacking flurry, there was plenty of excitement left, as Valdes made a great save one on one with Simao and Messi saw a brilliantly struck free kick bounce back off the bar. The fans would have liked five, but they had to settle for four – nevertheless, a great present from the Kings of Football and a great start to 2013!