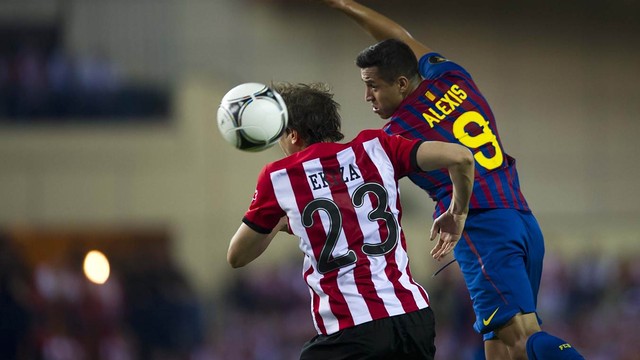 The Foreign Desk [Martin Ainstein (ESPN Deportes), Sid Lowe (The Guardian, Sports Illustrated), and Filippo Ricci (Gazzetta dello Sport)] analse Barça's first half of the season, and Sport columnist Emilio Pérez de Rozas explains why Alexis Sánchez is important to Barça's style of play
• Foreign Desk – FC Barcelona's halftime report
"In many ways this is the same team that won the six cups [under Guardiola]," says Gazzetta dello Sport's Filippo Ricci, "but what has changed?" Martín Ainstein, who writes and reports for ESPN Deportes, responds: "This version of the key players in Barcelona are better; Messi is a better Messi, Iniesta is playing the best year of his life, Busquets is amazing, Adriano is amazing … We have Cesc Fàbregas and Jordi Alba, both have improved the squad a lot."
Turning his analytical eye on Cesc Fàbregas, Sid Lowe notes that "Cesc is a midfielder this year [as opposed to last season, when he was instructed to play farther up the pitch], and it's Iniesta that's in the [front] line of three."
Building on Lowes' observation, for Ricci "the key is both Jordi Alba and Cesc. Alba playing like that gives [Cesc] a lot of freedom [in the middle]."
Watch the entire episode of Foreign Desk here:
• Alexis, Pure Passion
"I like football, just like everybody else. But it's clear that I'm no manager," writes Emilio Pérez de Rozas for Sport. "I like all the Barça players, of course, but I have a special debility for Alexis [Sánchez]." The columnist for the Catalan daily goes on to describe why the Chilean forward has earned such esteem:
"I like Alexis because he's courageous. I like him because he's seasoned. I like him because he's capable, yes, football is the only thing in his head. So what? I like him because his movements are always in the same direction, toward goal. I might be that others have more pause, they meditate on what they do, not Alexis. Alexis is what he is: a wonder of power, a player at the service of his teammates, a pest when he pressures, a fighter no matter how big his opponent is."
Tito Vilanova, in the post-match press conference against Málaga last week, gave validity to Pérez de Rozas' column when he publicly defended the Chilean in front of the Catalan and Spanish press: "He is a young player that goes all out. If he missed those chances it is because he worked hard to create them. We can forgive him his missed chances. We could not forgive him if he does not try, but he tries."
Read the article in its entirety here.