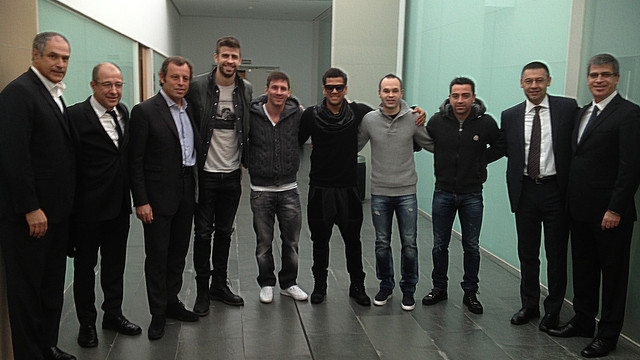 Enjoy all the information about the FIFA Ballon d'Or Gala in Zurich
09:00h – Iniesta and Messi, from La Masia to Zurich
Andrés Iniesta and Leo Messi are two of the three finalists for the 2012 FIFA Ballon d'Or which will be awarded this Monday in Zurich. Along with Cristiano Ronaldo (Real Madrid), the two FC Barcelona players will compete for the award reserved for the best player in the world. It's worth noting that the Argentinian has won the last three editions of the award and Iniesta was named the Best Player of the EURO and the Best Player in Europe of the Year by UEFA.
08:00h – FC Barcelona takes center stage in Zurich
Ten first team players, and ex-FC Barcelona manager Pep Guardiola, are in the running for awards this evening at the 2012 FIFA awards gala in Zurich
07:00h – Everything in place for the 2012 FIFA Ballon d'Or ceremony
Messi and Iniesta will travel to Zurich on Monday for the 2012 FIFA Ballon d'Or ceremony. Both Barça players are finalists for the award along with Cristiano Ronaldo. President Sandro Rosell, members of the Board of Directors, FCB players nominated to the FIFA FIFPro 2012 team, and the players' families will travel with the two Ballon d'Or finalists to Switzerland.