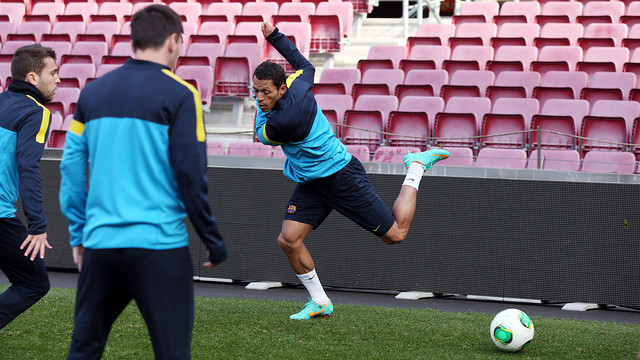 The Brazilian's ankle trouble hasn't cleared up and so he misses out on tonight's cup tie at the Camp Nou
The 19 players in the squad to face Cordoba tonight trained behind closed doors at the Camp Nou
Pedro, Iniesta, Piqué and Xavi all have the day off

Milan out of Coppa
Barça's next Champions League opponent, AC Milan, have crashed out of the Italian Cup after losing to Juventus in extra time. The Rossoneri went ahead thanks to a 6th minute goal from El Shaarawy, but Juve hit back in the 12th minute through Giovinco. The game ended 1-1 and went into extra time, when a 95th minute strike from Vucinic put an end to Milan's challenge for the trophy.
Adriano Correia will not be playing tonight against Cordoba. Jordi Roura had explained at a press conference that his presence would depend on how things went in training this morning, where it was found that his ankle is still not ready for competitive football. He picked up the injury in the open-doors training session on January 4 and has already missed the game with local rivals Espanyol. The club doctors will now have to analyse when the defender will be able to return to first team duty.
Last session
As usual when the first team plays at home, there was a training session this morning at the Camp Nou. The 19 players in this evening's squad (as well as Isaac Cuenca and Oier) took to the field at 12.30 to finalise preparations for the Copa del Rey match against Cordoba, which kicks off at 21.30.
Barça B's Sergi Roberto was one of them, while Xavi, Piqué, Pedro and Iniesta are all being rested today and will watch from the sidelines along with last minute dropout Adriano. Éric Abidal was also present at today's session in the Camp Nou, but exercised separately from the other players.