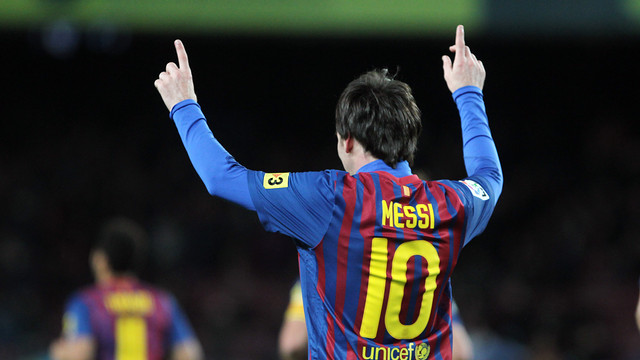 The Argentinian's achievement in 2012 included the Golden Boot and beating Müller's record for goals in a calendar year
The Argentinian's achievement in 2012 included the Golden Boot and beating Müller's record for goals in a calendar year
This has been the year of Leo Messi, the winner once again of the FIFA Ballon d'Or. Here we look back in chronological order at the player's achievements in 2012.
January 9. Wins third FIFA Ballon d'Or with a record number of votes ahead of Ronaldo and Xavi.
January 15. Offers the Ballon d'Or trophy to the Camp Nou and then scores twice against Betis (4-2).
January 18. His 300th first team appearance at the Bernabéu in the Cup quarter final (1-2). In these 300 games he scored 213 goals.
January 22. Ends best ever first half of a season with 22 goals after a hat-trick at Malaga (1-4).
February 19. Scores four foals in his 200th Liga appearance against Valencia at the Camp Nou (5-1). In these, he scored 146 goals.
March 7. Scores five against Bayer Leverkusen in the second round of the Champions League (7-1).
March 11. Makes it to 50 goals in the 2011/12 season with a brace against Racing (0-2). The fifth game in a row in which he scored.
March 17. Scores 150th league goal (in 203 games) to make it to 51 in total for 2011/12.
March 20. Another hat-trick against Granada (5-3) beats César Rodríguez's all-time club record (232 goals), and also sets a new personal best for a single campaign: 54 goals.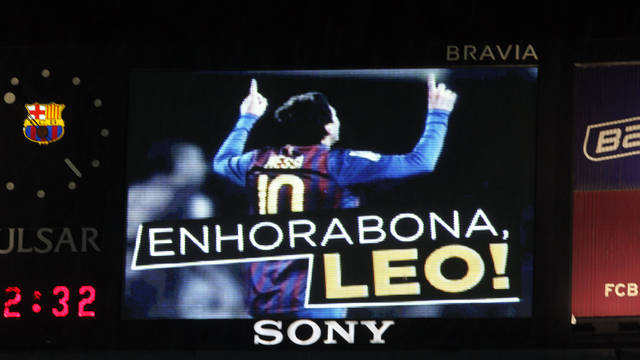 April 3. Scores twice in the Champions League quarter finals against AC Milan (3-1). Makes his half century of goals in the competition (51 goals in 66 games).
April 7. Two goals at Zaragoza (1-4) take him to 60 in the 2011/12 season.
April 14. Another brace, this time against Levante (1-2) beats Cristiano Ronaldo's Liga record. Messi now has 41.
May 5. Four goals against Espanyol (4-0) take Messi to 50 in La Liga, and 72 in all competitions.
May 25. Last goal of the season in the Copa del Rey Final against Athletic Bilbao (3-0). Ends season with 73 goals, beating Müller's 67 in 1972/73.
September 19. European campaign starts with yet another brace, this time against Spartak Moscow (3-2). Thus equals Raúl's record for scoring twice in European Cup games (14).
October 7. Two more goals against Real Madrid in La Liga (2-2), making it 150 goals in official matches at the Camp Nou and 100 in Liga matches.
October 20. His first hat-trick of 2012/13 comes away to Deportivo (4-5).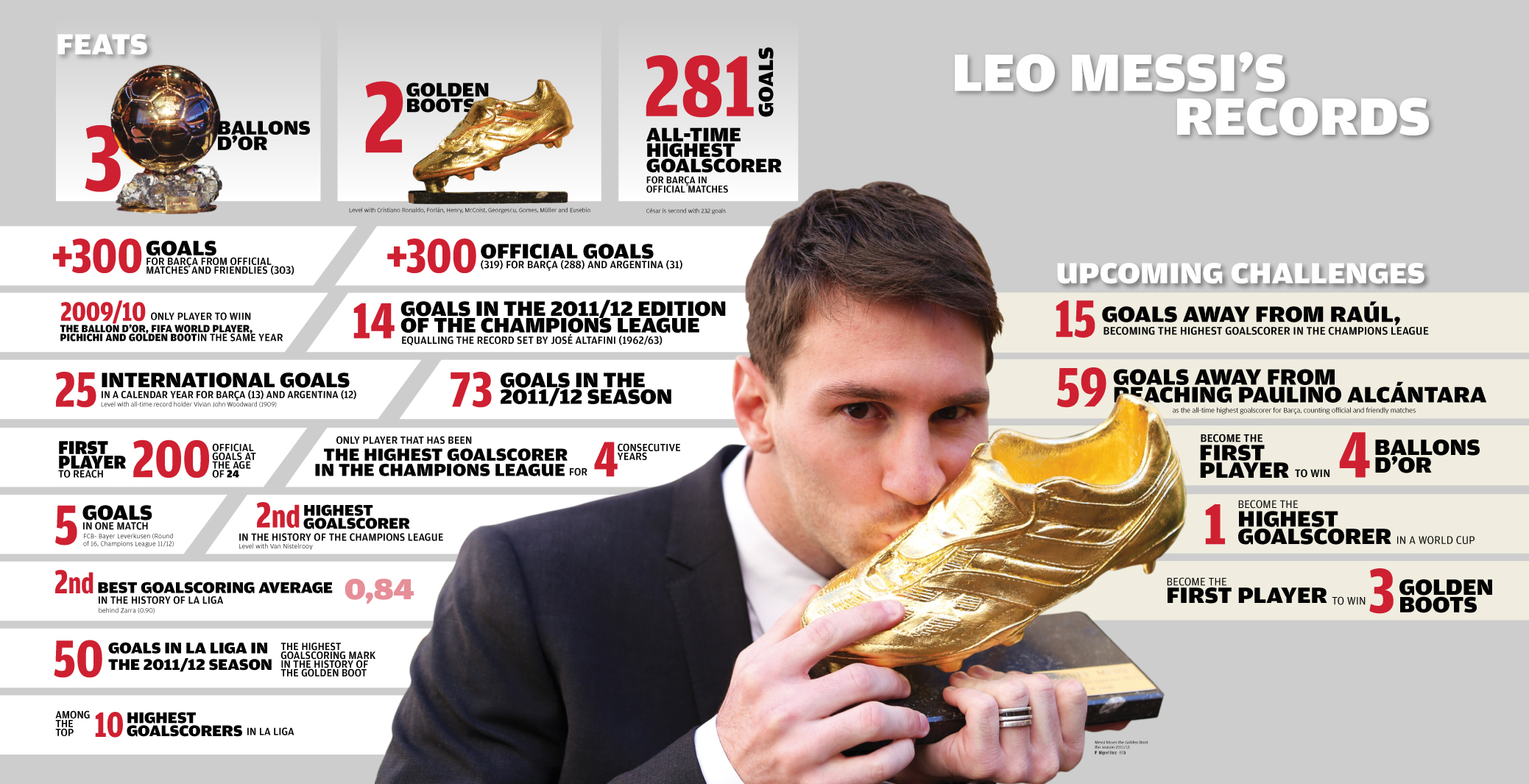 October 27. A hat-trick at Rayo (0-5) takes Messi to 300 goals as a professional. Becomes tenth highest scorer of all time in the Spanish championship.
October 29. Presented second Golden Ball by Luis Suárez at the old Estrella Damm factory in Barcelona.
November 20. Two goals in Moscow (0-3) equal Ruud Van Nistelrooy as the second highest scorer of all time in the Champions League (56 goals).
December 1. Another brace against Athletic Bilbao (5-1) equal César's Liga record (190 goals). Messi reaches this tally in 228 games.
December 9. Two goals at the Benito Villamarín beat Gerd Müller's legendary record (85 goals in 1972). He has 86.
December 22. Ends 2012 with two goals in Valladolid (1-3) to take his total for the year to 91, a new world record for a calendar year. And this was the seventh game in a row in which he had scored.