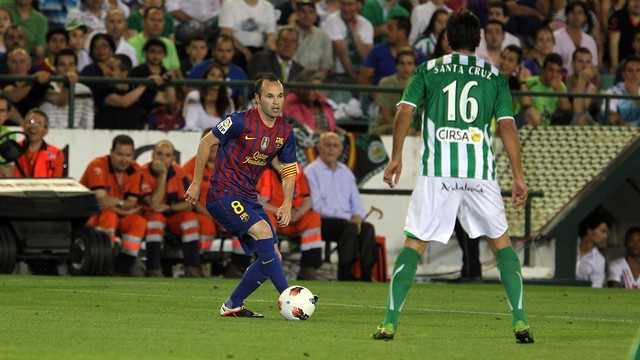 Barça have won just once in the eleven games played at the Benito Vilamarin since 1999.

Barça visit the Benito Villamarin to play Betis on Sunday – a ground that has traditionally not been much of a happy hunting ground. In the 47 games Barça have played in Seville, they have won just 18, drawn 13 and lost 16. However, over the last few years, they have managed just one win in their last 13 visits.
Draw on return to top flight
Barça's most recent game away to Betis was at the end of last season, when they drew 2-2 in a game that had no significance at al. The game marked the end of Betis' first season back after a couple of years down in the second division, when they faced Barça in the quarter finals of the Spanish Cup – winning 3-1, before losing 5-0 in the return game at the Camp Nou.
Seven years since last win
Before being relegated in 2009 Betis had spent a decade(apart from the 2000/01 season spent in the second division) making life difficult for Barça at the Benito Villamarin, losing just once to the Catalans – a 1-4 defeat in the 2005/06 season, when Van Bommel, Eto'o (2) and Ezquerro scored for Barça. In all then, it's been seven ´ça managed a win away to Betis.