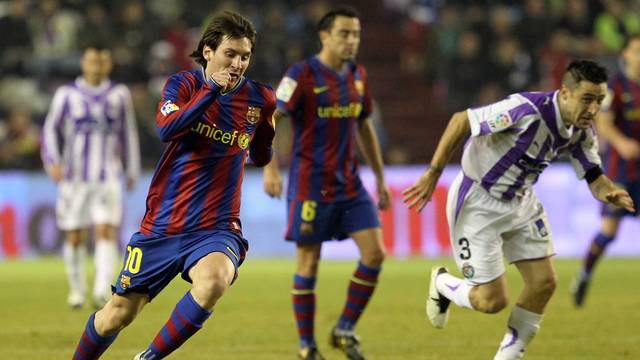 FC Barcelona will travel to Valladolid on Saturday for the last match of the season before the holiday break
On Thursday, Miroslav Djukic, Valladolid's manager, declared that "we all dream of defeating Barça" and he warned the Blaugrana that La Pucela will play attacking football on Saturday
HISTORY
Founded in 1928, Real Valladoild – also known as La Pucela – battled it out in Segunda División for 19 years before reaching Spain's top flight in the 1947/48 season. The following decades saw La Pucela yo-yo back and forth between Primera and Segunda (with one season in Segunda B – 1970/71). Current Chelsea manager Rafa Benitez (ex-Valencia, Liverpool, and Inter Milan) led Real Valladolid a seventh-place finish in Primera, their best in the twentieth century.
FORM GUIDE
Valladolid sit in the 10th position of the table on 22 points. Of the 16 La Liga matches they've played this season they've won six, tied four and lost six. La Pucela have only lost two matches at home this season – their away record stands at four defeats – with their most recent defeat coming at the hands of Real Madrid (2-3) two weeks ago. On paper this result may not surprise some, but the match was ferociously close. Of Real Valladolid's last five La Liga matches, they've won two (Granada and Sevilla), tied one (Deportivo), and lost two (Real Madrid and Getafe).
THE BOSS
"If you close yourself off at the back you make it easier for Barça," declared Miroslav Djukic on Thursday. He admitted that "we all dream of defeating Barça. We know it will be very difficult, but if I, as the manager, don't believe it's possible I'd be unable to instill the necessary confidence in my players." The manager is no stranger to rising to challenges. During his playing career he was part of the feared Valencia CF side that haunted Spain and Europe from 1998 through 2001. He won La Liga, the Copa del Rey and was Champions League runner-up for two consecutive seasons (1999-2001).
He started managing club football in 2007 when Partizan named Djukic head manager of their first team. He was voted Manager of the Year that season. He moved on to Hercules before landing in Valladolid at the start of last season.
ONES TO WATCH
Manucho Gonçalves was a nightmare for Real Madrid's defence two weeks ago, Barça should expect the same on Saturday. So far this season he's scored six goals, two of them against Los Blancos. Standing six feet and two inches tall, Manucho is a constant areal threat to any defence he plays against. While Manucho takes care of business up top, Óscar González runs Valladolid's midfield. He's his team's highest goalscorer with seven goals and he's given out three assists so far this season.