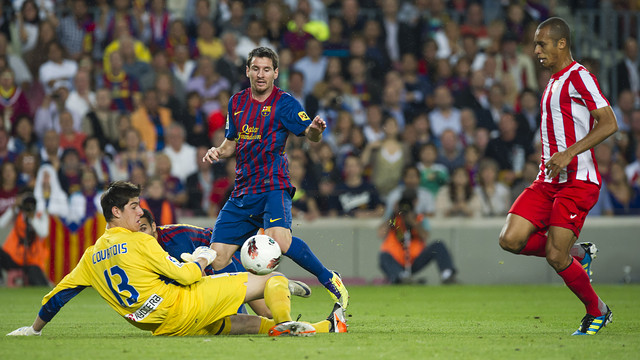 The holders of the Europa League and the European Super Cup visit the Camp Nou on Sunday with the hopes of cutting in to FC Barcelona's lead at the top of the table
Early years
Founded in 1903 by three Basque students, Atlético Madrid functioned as a youth-team offshoot of the Athletic Club Bilbao for nearly 20 years. The Madrid-based side broke off from their Basque club in 1921, the same year they made it to the Copa del Rey final; ironically against Athletic Club Bilbao.
Golden Era
From 1957 through 1976 Atlético Madrid were regular contenders, along with FC Barcelona, Real Madrid and Athletic Club, for the La Liga title. Under Ferdinand Dauik, former FC Barcelona manager, Atlético Madrid featured in the 1957/58 European Cup semi-final, but lost to Real Madrid. In the following years they claimed two Copas del Rey and one UEFA Cup Winners Cup (1962). Fast forward 12 years, and Atlético Madrid made their debut in a European Cup final after knocking out Galatasaray, Dinamo Bucharest, Red Star Belgrade and Celtic FC. Only Franz Beckenbauer and Gerd Müller's Bayern Munich stood between Atlético and European glory. The final ended in a one-all draw, and a replay was scheduled. Atlético Madrid lost the replay by 4-0, which included two goals from Müller.
Long history of thrilling matches between FC Barcelona and Atlético Madrid
In the last two decades, matches that feature both FC Barcelona and Atlético Madrid have averaged at least four goals. When Josep Guardiola took over for the Blaugrana, this average increased to five goals a game. Perhaps the most notable match for the Colchoneros (Atlético) during the Guardiola era was the 4-3 at the Vicente Calderón in 2009. The following seasons, however, brought crushing victories for the Blaugrana: 6-1, 5-2, 3-0, 5-0 (all at the Camp Nou).
Current Form
Atlético Madrid sit in the second spot of the table, six points adrift of FC Barcelona. They've won 12 of their 15 La Liga matches, lost 2 and tied 1. Of their last five matches, they won them all with the exception of their match away to Real Madrid (2-0). The defeat to Real Madrid is sandwiched by a 4-0 victory over Sevilla and a 6-0 victory over Deportivo.
Ones to watch
It's tempting to focus solely on Radamel Falcao, who fired five past Deportivo this weekend, but the fact of the matter is that Atéltico Madrid are a very solid team. Barça's centre backs will have to keep an eye out for Falcao, who's second in the Pichichi race behind Leo Messi, but they'll also have to be wary of Diego Costa, Arda Turan and Adrián. Atlético Madrid are also very solid at the back. They've conceded only 13 goals this season thanks a tremendous back four made up of Godín, Filipe Luis, Juanfran and Cata Díaz.