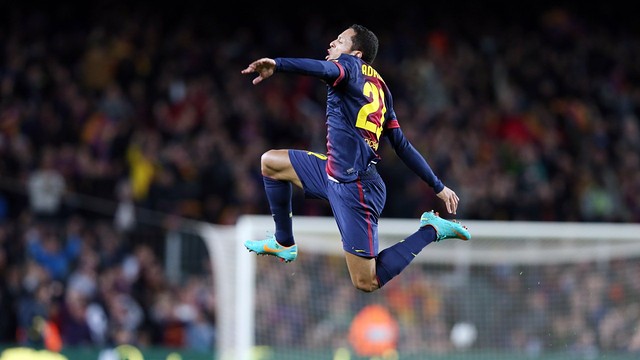 Barça established a new goalscoring record in a calendar year thanks to goals from Messi, the Brazilian defender and the Spanish international

Messi isn't the only one breaking records in 2012. FC Barcelona managed to break the 170-goal mark that was set last season. In fact, Tito Vilanova's men have netted 172 times this year: 118 were scored in La Liga, 26 in the Champions League, 24 in the Cup and 4 in the Super Cup. Here's an overview of Barça's standout players against Atlético Madrid:
Adriano Correia:
Falcao opened up the scoring and gave Atlético Madrid the lead thanks to a beautiful chip over Valdés, but FC Barcelona struck back thanks to an absolutely sublime curling shot from Adriano. The equalizer was Adriano's sixth goal of the season.
The Brazilian defender has scored two goals with his right foot, and four with his left. Against Valencia, Adriano scored a beautiful goal, however, that one was with his right. He's fundamental for Barça on both sides of the pitch.
Sergio Busquets:
Sergio Busquets proves his worth every game he plays for FC Barcelona. He's the fundamental link between Barça's offence and defence. This time, against Atlético Madrid, the FC Barcelona midfielder gave his team the go-ahead goal right before the break.
Lionel Messi
The Argentine forward is making sure to notch up as many goals as possible in 2012. With his brace this evening against Atlético Madrid, he has 90 goals this year. In addition, Leo has scored 25 goals so far this season in La Liga, a mark that sees him clear of his immediate pursuers for the Pichichi trophy. It's worth mentioning that Atlético Madrid are the team that Messi has scored against the most: 20 career goals, 17 in La Liga.